CONNECTING MUSICALLY (AND VIRTUALLY) WITH LOCAL SENIORS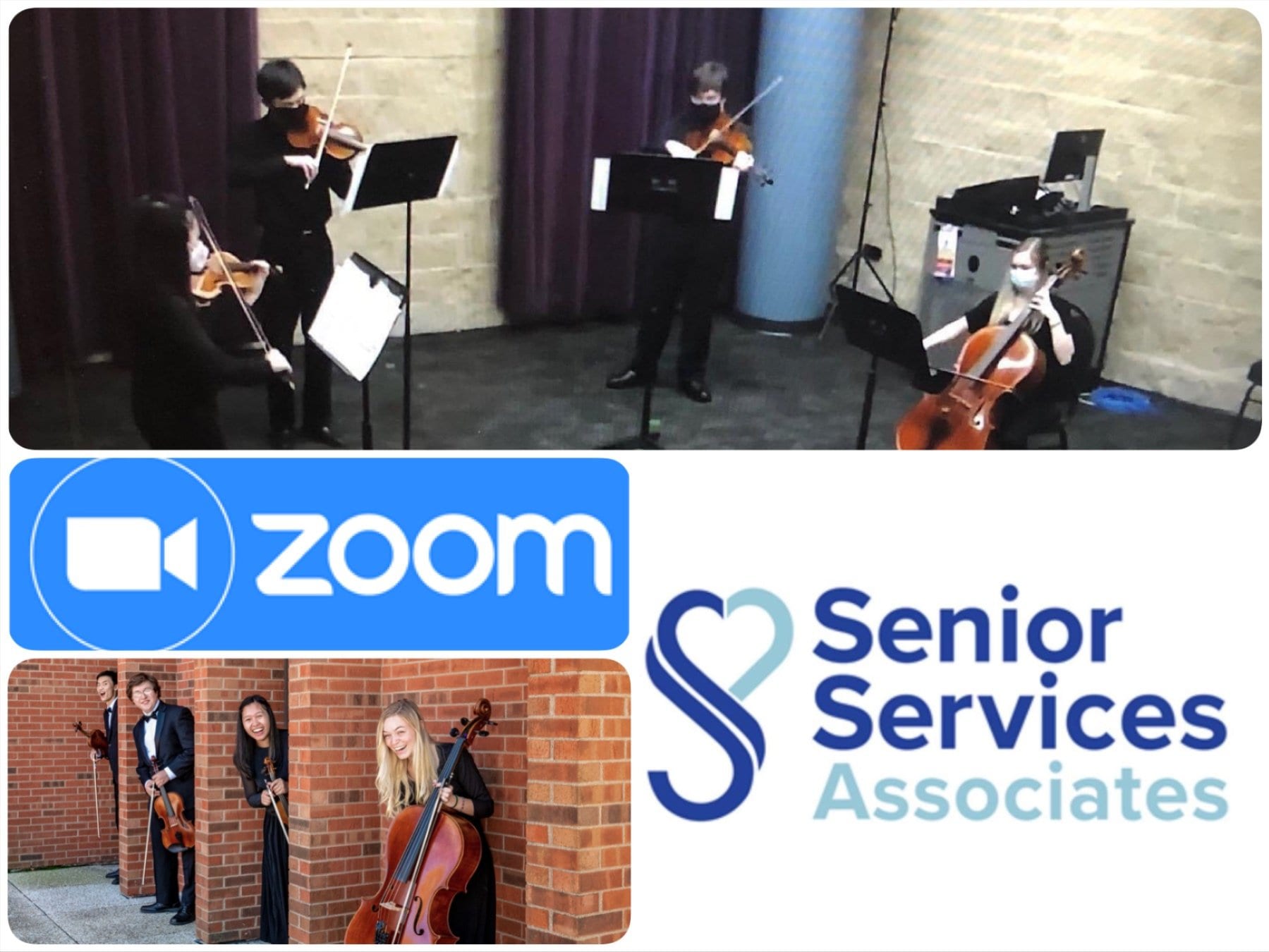 On December 23rd, students in EYSO's
honors chamber ensemble (HCE) Maud Powell String Quartet
shared their time and music with local seniors through a Zoom collaboration with
Senior Services Associates (SSA)
. SSA is "...dedicated to sustaining and improving the quality of life for individuals age 60 and older, the disabled and their caregivers..."
EYSO's Chamber Music Institute (CMI) Director
Roslyn Green
shared a video recorded in November during our
livestreamed CMI concert
. The video featured Maud Powell String Quartet (MPSQ) performing String Quartet No. 2 in A minor, Op. 13, I. Adagio — Allegro vivace (Felix Mendelssohn).
After the performance, participants engaged with students asking lots of great questions. After the Q&A session ended two MPSQ students delighted the audience with holiday tunes performed live during the Zoom session.
It was a joyful experience for all! We are grateful to SSA for inviting us to engage with their senior community. If you would like to arrange a similar collaboration with our students please contact Roslyn Green (RGreen@eyso.org, 847-558-2301).
10TH ANNUAL FACULTY RECITAL
The pandemic will not stop our faculty from sharing the joy of music. Look out for a link next Thursday to the virtual performance. For copyright reasons the link will be available after sharing for a limited time only.

(Image is from the January 2020 Faculty Recital, Pre-COVID)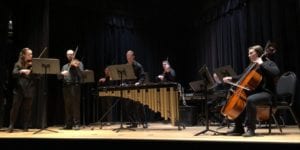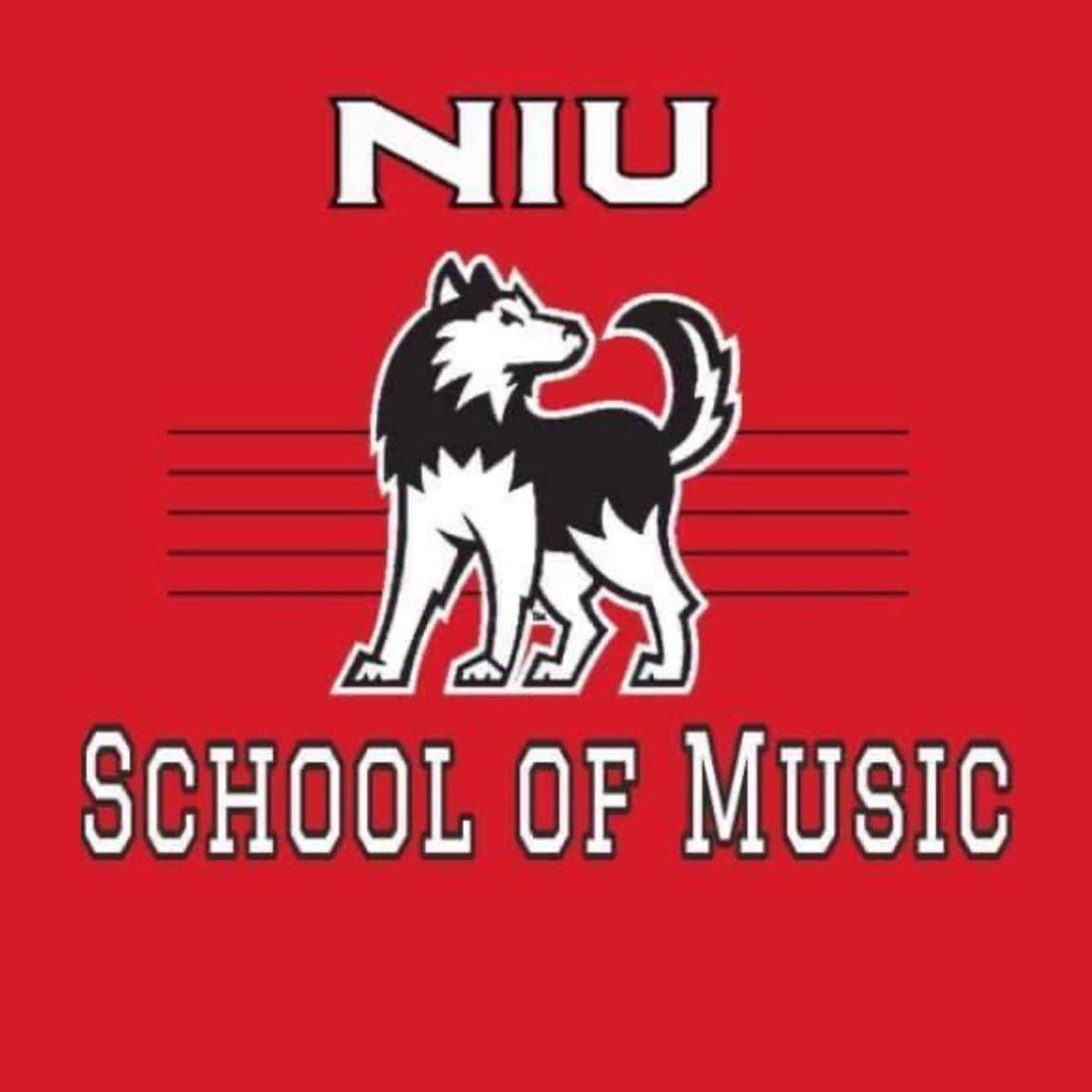 CONDUCTING A YOUTH ORCHESTRA DURING A PANDEMIC
With a rich history of collaborations and partnerships, EYSO continued to build connections in music across Illinois this fall. Tanner Longfellow, a violist and music education student at Northern Illinois University, became EYSO's first student intern in January 2020. Since then, he has been a part of three vastly different EYSO concert days: a more "traditional" experience in March featuring guest artist Luis Vazquez, our first ever virtual concert
Folklórico
in May, and the livestreamed performance
Origins
in November. It's been quite an experience for EYSO's first intern!
Inspired by what he saw across all levels of EYSO, Tanner utilized his connections as president of the American String Teachers Association (ASTA) chapter at NIU to present a three-day workshop of music education topics, hosted in conjunction with the NIU chapter of the National Association for Music Education (NAfME). EYSO artistic director Matthew Sheppard was a featured speaker at this workshop, where he spoke with future music educators and faculty about his experience running a youth orchestra during a pandemic. EYSO is proud to be a partner with institutes of higher learning, and to be a part of training and inspiring future generations of music educators.
The following bookmarks are links to specific sections of the recorded workshop:
About Matthew Sheppard
Navigating the Pandemic
Spotlight on EYSO board members, students, and alumni. Get to know EYSO in a whole new light!


 • ALUMNI •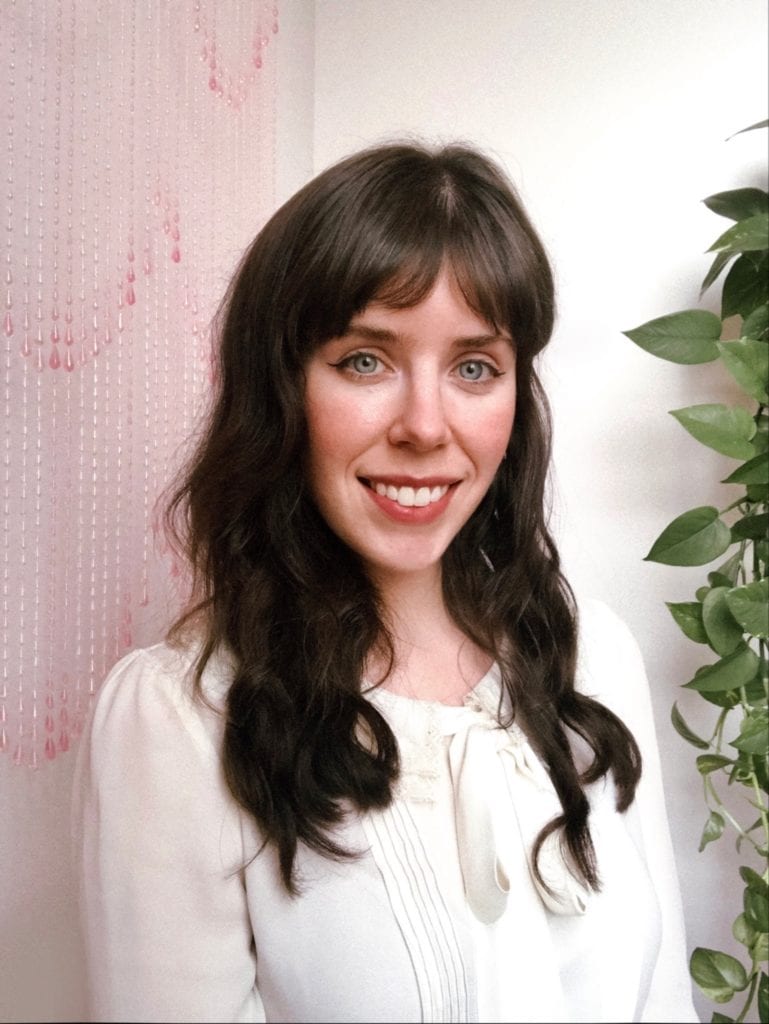 SPOTLIGHT ON EYSO ALUMNI KRISTINA LYNN
Brass Choir & Youth Symphony trumpet alumna Kristina Lynn only played in EYSO for two years, but "at the risk of sounding hyperbolic," she says, "it really was life-changing. I had thought about going into music, but I wasn't totally sure. Having that experience of playing in a full orchestra, with a bunch of other really serious musicians, playing this music I had never played before, really set me on the path" toward a professional music career. Fast-forward one decade: Kristina recently made her
on-air hosting debut at WFMT,
Chicago's classical radio, where she also works as a production assistant preparing station programming for the airwaves.
One of Kristina's favorite EYSO memories is performing the Tchaikovsky Violin Concerto with Midori in the fall of 2008—her very first EYSO concert. "Being on that stage was amazing. I'm getting chills just thinking about it," she says. The following season, bass-baritone (and WFMT host) Peter van de Graaff joined the Youth Symphony for a performance of Brahms'
German Requiem,
and Kristina credits that collaboration for sparking her interest in radio. "Seeing Peter with a full-time job at the radio station, being a radio host as well as being a performer at such a high level, I thought, 'maybe I could make that happen.'" After one year of community college, Kristina transferred to DePaul University to complete her degree in trumpet performance and continue exploring the radio-hosting path.
As a production assistant, Kristina listens to hours and hours of classical music each week to "make sure it's in tip-top shape" before being shared with other stations in the WFMT network. As she gains more experience as a host—an opportunity, she's quick to note, she wasn't expecting to receive at age 29, considering the scarcity of classical radio airtime—she hopes to become a relatable voice on the air, breaking down the stereotype that classical music is "for snobby people only." When introducing new listeners to the genre, Kristina recommends compilation albums: "something like 'Greatest Hits of Tchaikovsky'…that's what got me into classical music when I was younger, and I have memories of playing that type of CD in the car and looking out the window while we were driving. I think those CDs can be a really great place to start." As for her own favorite music, she confesses, "It's still true that all of my favorite pieces are ones that I played with EYSO."
Congratulations, Kristina, and we hope to hear you on the air for many years to come!
- Article written by Membership Coordinator and Music Librarian Emily Krasinski
Two words that mean SO much! We are grateful to ALL EYSO supporters. On that note, we'd like to highlight this month's special supporters...
YEAR-END CAMPAIGN
Thank you to everyone who supported our year-end fundraising campaign. Your generosity raised more than $4,000 for music education. Your support is keeping music education thriving during these unusual times for our nearly 300 students. Our staff, board, and students thank you for all you do for EYSO. THANK YOU!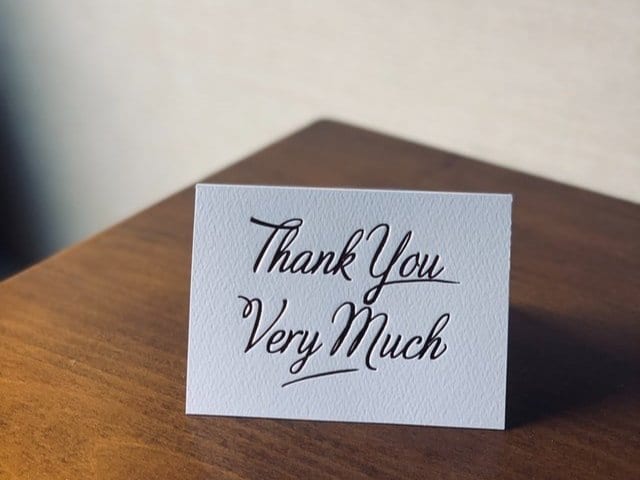 FOUR NIGHTS OF COOKING, MUSIC, AND MORE!
Simple Ways to Support EYSO
If you're an Amazon shopper, please bookmark:
smile.amazon.com
and select
"Elgin Youth Symphony Orchestra"
as the nonprofit to support. This is an easy way to give to EYSO doing what you're already doing. Every amount adds up and is a great help to our fundraising efforts.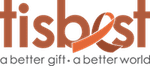 Tisbest.org
is fueling the movement to replace gifts of stuff with gifts of good that meaningfully connect individuals with important causes. EYSO is one of the nonprofit organizations gift card holders can support. Here's a list of all U.S. nonprofit organizations supported via tisbest.org:
All U.S. Charities (click here).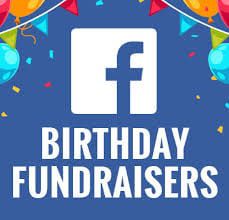 Are you an EYSO fan? Do you (or even your pet) have a birthday coming up? Consider hosting a Facebook birthday fundraiser benefitting EYSO. We will even send thank you birthday notes to your supporters. We can send electronic OR paper birthday thank yous. Simply send your list of birthday fundraiser supporters to our development director and we'll be happy to thank everyone accordingly. Reach out to Kari at KLChristensen@eyso.org. Happy Birthday!
THANK YOU FOR TAKING NOTE!
If you'd like to be notified by email when these monthly newsletters are posted, please click the button below to sign up.