(You can choose 1, 2, 3, or 4 nights)
Join us for a virtual culinary experience…
Premiering Saturday, January 23, 7 pm CST
Event Dates: Jan. 23, Jan. 30, Feb. 6, and Feb. 13
Enjoy four nights of cooking, music, and more!
---
Who's Up First?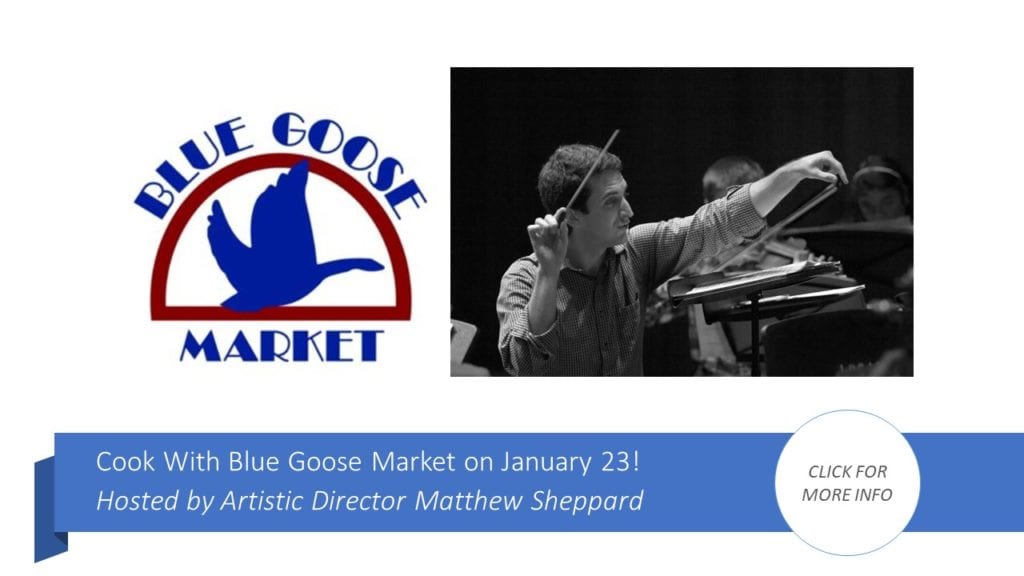 ---
Whether you're in the Fox Valley area or hundreds of miles away we have a ticket for you!
Interested? Read on…
---
On four consecutive Saturdays, be amazed by the talents of culinary masters from:
 Bleuroot, Balmoral Restaurant, Blue Goose Market, Chef Lainy (Priority Events).
(Choose 1, 2, or 3 nights or ALL 4!)
But, the fun doesn't stop with the food!
You will mingle with "celebrity" guests and experience the EYSO difference with performances by our honors chamber ensembles!
What's that? Oh, yes! There will also be "door" prizes–join us on Zoom for a chance to win!
(well, it's a virtual door anyway)

Receive a unique EYSO signature bamboo cooking utensil for each week you purchase (local or remote)!
---
Who's on Each Week?
STEP 1: Decide which week(s) you want.
Clicking each logo will link you to that business' website.
---
---
Purchase Tickets
STEP 2: Select LOCAL or REMOTE
Clicking these buttons will lead you to selecting tickets. GIFT CERTIFICATES AVAILABLE!
DISCLAIMER: PLEASE KNOW WE WILL MAKE EVERY EFFORT TO WORK WITH THE CHEFS AND BUSINESSES LISTED ABOVE. EVENT PARTNERS ARE SUBJECT TO CHANGE DEPENDING ON CIRCUMSTANCES.