Taking Note – Issue 35, February 2022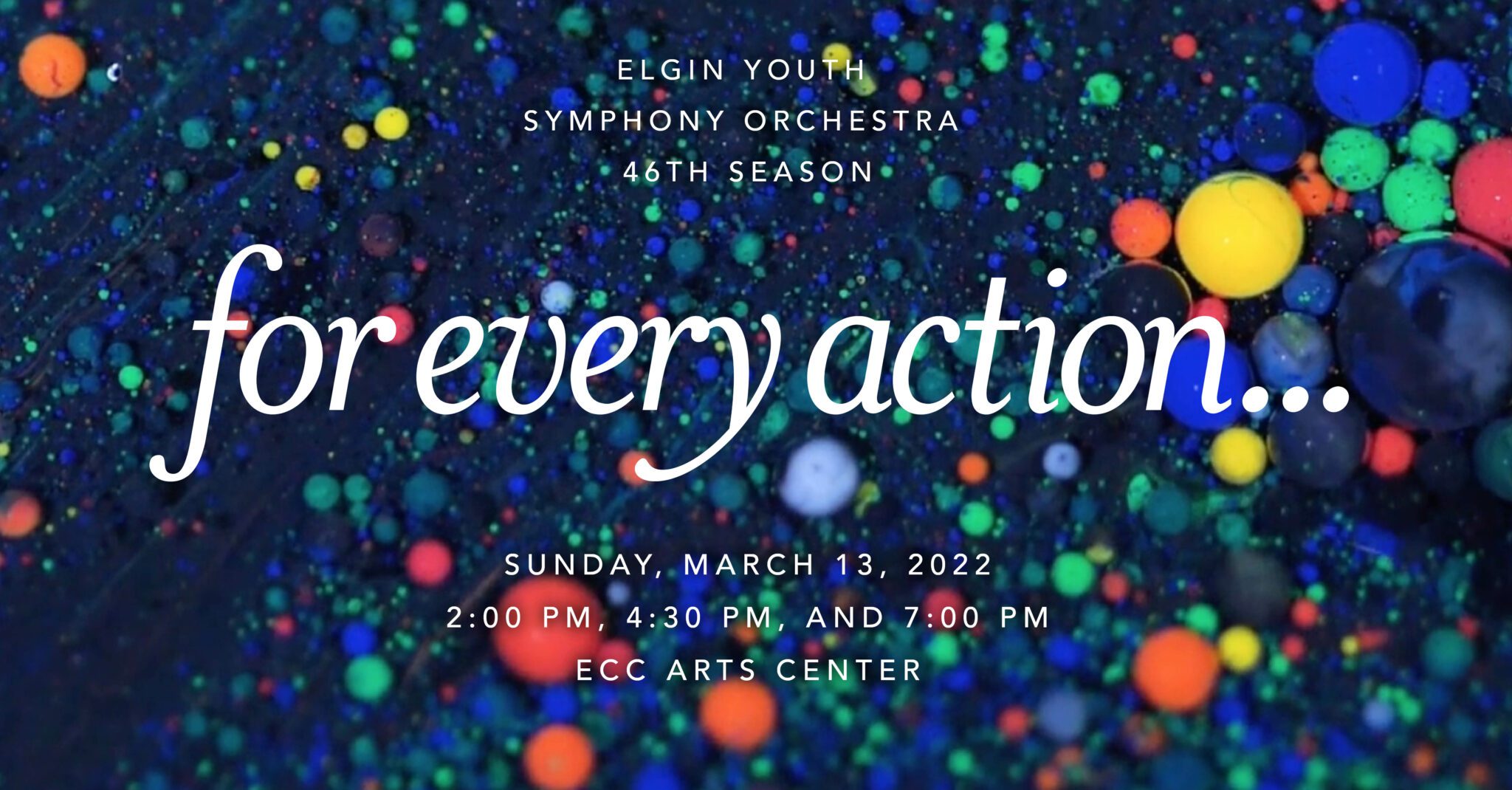 EYSO'S UPCOMING CONCERT: FOR EVERY ACTION... MARCH 13

We hope you will join EYSO on March 13th at
For Every Action...
, the second concert of our 2021-22 season. Tickets go on sale Monday, February 28 for the general public. More information on concert times and purchasing tickets can be found at
www.eyso.org/concert
. 
Prefer to catch the concert from home? Livestream tickets are currently available for purchase at
www.eyso.org/concert
.
Repertoire includes stirring selections from Claude-Michel Schönberg's Les Misérables, the achingly beautiful Adagio for Strings by Samuel Barber as transcribed for Brass Choir, movements from Florence Price's spirited Symphony No. 1 in E Minor, and the mighty Fifth Symphony of Dmitri Shostakovich.  For a behind the scenes peek at rehearsals for March 13th, visit
EYSO's YouTube Channel
.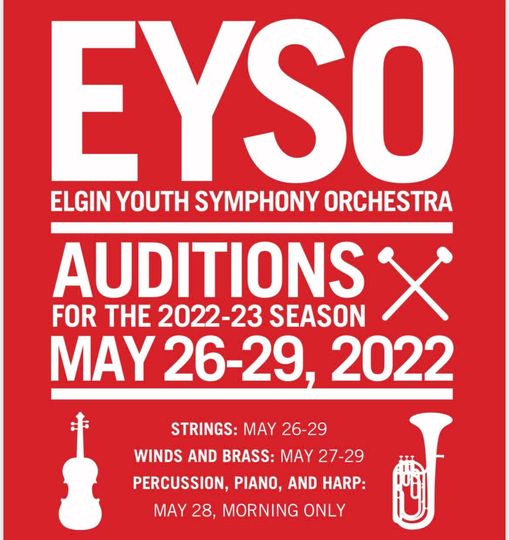 NOW ACCEPTING AUDITION APPLICATIONS
Do you know someone interested in experiencing the EYSO difference? For instrumentalists from 4th grade to college, playing for 2 years or 12, there is a place for everyone at EYSO.  
For more information or to apply, visit
https://www.eyso.org/join-eyso/auditions
. 
Auditions take place May 26-29 at Elgin Community College.   

SPONSORSHIP OPPORTUNITIES AVAILABLE
Adventures in EYSO
is our biggest fundraising event of the year and a wonderful opportunity for local businesses to spotlight their support of EYSO. As a sponsor, you will reach a new and appreciative audience while solidifying the future of EYSO for the generations of students to come. 
To view sponsorship opportunities,
click here
. Sponsorships can be tailored to fit the needs of your business. Contact Kyla Brittain, Director of Development, at kbrittain@eyso.org to discuss further opportunities.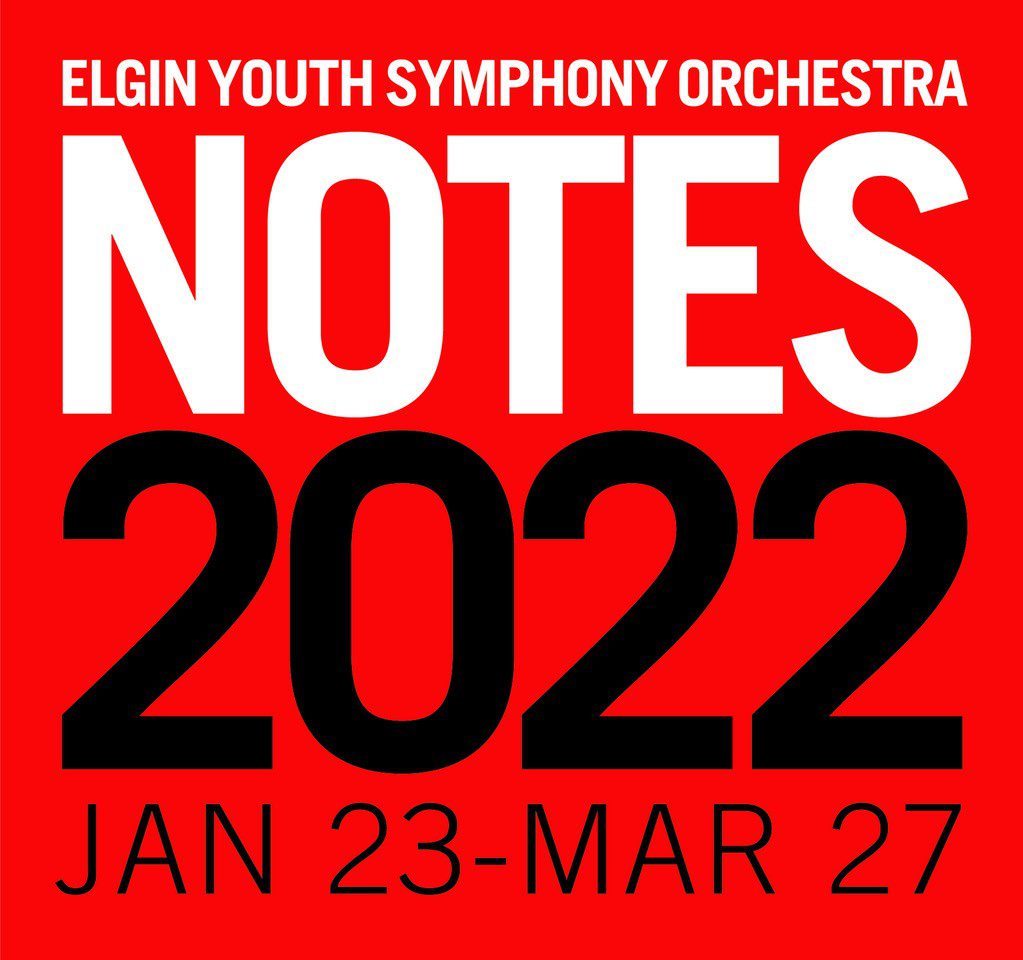 A huge CONGRATULATIONS to the student musicians of EYSO who have raised $16,5858 since the NOTES 2022 campaign kicked off in late January. If you have not donated yet, there is still time. Visit our
NOTES 2022 page
and read the stories of each of our students. 
The NOTES campaign is an annual family fundraiser where students "write notes, to get notes, so they can play notes". This year's campaign runs through Sunday, March 27 with a goal of $54,850. Donations from the NOTES campaign help keep tuition costs down ensuring accessibility for everyone. 
EYSO proudly recognizes and congratulates current EYSO students who recently participated at the Illinois Music Education Conference (IMEC). We are so proud of your hard work and accomplishments!
IMEC is an annual conference that brings together music educators from across Illinois for professional development, networking and concerts. 
ALL STATE ORCHESTRA
Molly Gruman, Waubonsie Valley High School
Ariana Mattos Cruz, Larkin High School
Luke Shimizu, Batavia High School
Nora Brink, Benet Academy
Megan Kamysz, St. Charles East High School
Anushi Varma, Neuqua Valley High School
Christina Fetterly, Westmont High School
  HONORS CHORUS
Katherine McClellan, Crystal Lake Central High School
Evelyn Irwin, Crystal Lake Central High School
FUTURE MUSIC EDUCATORS SEMINAR
John Henderson, Geneva High School

ALL STATE BAND
Ryan Wang, Neuqua Valley High School 
HONORS BAND
Gail Creighton, Glenbard North High School
Tessa Hazlett, Dundee-Crown High School
Lizzy Wallace, Crystal Lake South High School
HONORS ORCHESTRA
Mina Chang, Benet Academy 
Monish Murali, Neuqua Valley High School 
  Harry Graham, St. Charles East High School 
April Zhang, Neuqua Valley High School 
  Elizabeth Kerr, Batavia High School
Nathan Throneburg, St. Charles East High School 

And a very special congratulations to Brendan Coller, Geneva HS, whose composition Miniature Concert Piece for Orchestra in D Minor won the composition contest! 
MARCH
03.13.2022: CONCERT DAY (2pm, 4:30pm, 7pm) For every action...
03.27.2022: NOTES Campaign Concludes
APRIL
04.10.2022: Spring CMI Concert
04.10.2022: Spring Open House
MAY
05.08.2022: CONCERT DAY (2pm, 4:30pm, 7pm) Through The Looking Glass
05.13.2022: Adventures in EYSO- Dinner and Auction
05.26-05.28.2022: EYSO Auditions 

Simple Ways to Support EYSO
If you're an Amazon shopper, please bookmark:
smile.amazon.com
and select
"Elgin Youth Symphony Orchestra"
as the nonprofit to support. This is an easy way to give to EYSO doing what you're already doing. Every amount adds up and is a great help to our fundraising efforts.
THANK YOU FOR TAKING NOTE!
If you'd like to be notified by email when these monthly newsletters are posted, please click the button below to sign up.