Remembering Stu Ainsworth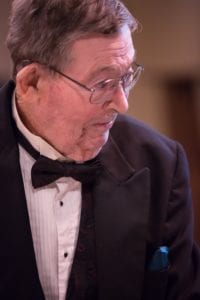 Stu Ainsworth (1932-2018)
With a deep sense of loss, the EYSO family is marking the passing of Sterling E. "Stu" Ainsworth. Stu was a tireless supporter of the EYSO, having served on its Board of Directors since 2005, including several terms as an energetic and exacting president. Stu liked to be right in the middle of the action which, in the EYSO, meant being with kids. In 2006, he served as a chaperone on the Youth Symphony's tour to the Aberdeen Festival in Scotland, and more than that: he purchased tickets so the entire group could attend the famous Tattoo at Edinburgh Castle. Always reading and always curious, Stu was fascinated by all things Scottish and spoke fondly of this tour often.
Our once-in-a-lifetime Civil War Tour in 2012 was another particularly nostalgic joy for Stu, who again came along as a chaperone. Even though Kathy Matthews offered to fly him to Atlanta to meet us, he insisted that no, he wanted to ride the bus with the kids. Stu relished every moment of this tour, but all of us who went especially remember his impromptu singing of "Old Man River" with Evan Bravos at one of our evening group dinners.
I could tell that Stu always took some personal responsibility for this tour—not just in supporting it financially and coming along personally, but for, in his way, inspiring us to do it. Five years earlier, he had handed me a copy of "Team of Rivals" by Doris Kearns Goodwin and pestered me until I read it. It was significant for me—it actually marks the moment I fell in love with Abraham Lincoln and started a lifelong quest to understand this man and probe the depth of his ideals.
In 2007, Kathy Matthews floated the idea of an honors brass quintet and asked Stu if he would be interested in sponsoring it.  She even suggested it bear his name, "Sterling"—a word that connotes integrity and quality.  Although he was initially not comfortable with his own name attached to the group, he finally relented, and now, twelve years later, Stu was still its patron.The Sterling Brass Quintet was an immense source of pride for Stu and each year, when they played "Just a Closer Walk", these five students knew well how much it meant to him, which informed their vibrant playing.
Stu's financial gifts to the EYSO were both strategic and generous. But for me, personally, his gifts—as large and consequential as they were—went way beyond the financial. Stu really saw himself as an encourager and cheerleader.  He not only supported the Sterling Brass Quintet financially—he supported and took an interest (as best he could) in the individual kids in the group, every year. He kept track of them and took pleasure in them as individual kids. In his way, he loved them.
Stu's passing gives us pause to remember a profound truth: the world is moved along by the strength, energy, and passion of single, solitary individuals.
Stu was just a kid from Iowa who at some point decided it was his destiny to make a difference in the world. He actually believed that. Instead of just living a quiet, simple life of personal comfort, keeping his head down to avoid criticism, and focusing on his own life and concerns, Stu looked outward.  He lavished his time and energy and money and ideas on making things better. He really believed he could make a difference, and he believed it right up until the day he died. (I sat with him last week as he was inducted into the Fox Valley Arts Hall of Fame—a timely award, indeed—and heard him speak about his life. His speech had that epic sense of a contented "life well-lived.")
This is a good reminder for each of us. Whether we work in the non-profit sector, or volunteer, it's easy to feel discouraged and tired. When we think of Stu, whose "I can make a difference" flame burned bright right up until the end, we think, "I can keep doing this. I can make a difference."
That is his legacy. That is his final, generous gift to us.
Randal Swiggum
Artistic Director
To read Stu Ainsworth's obituary, click here.
---
Photos are from Springboard on April 14, 2018
The Ainsworth family is hosting a visitation from 4 to 8 pm, Thursday, May 24, at
Laird Family Funeral Home, 310 S. State St., Elgin IL
_____________________________________
Contribution may be made in his name to the Elgin Youth Symphony Orchestra