Wanderers Livestreamed Concert on Sunday March 14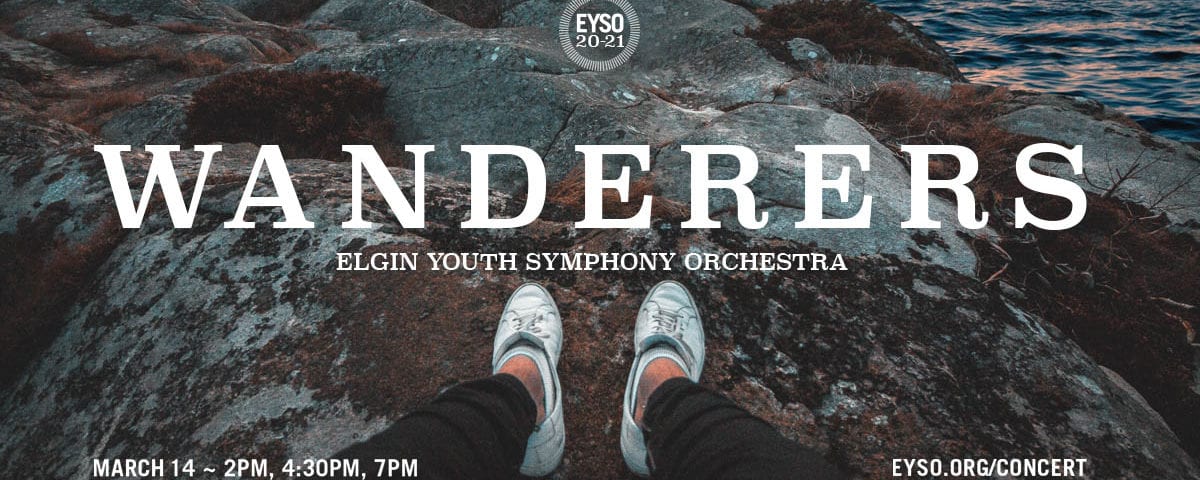 Join EYSO Students from 70 Chicagoland Communities in Wanderers, a
Free, Live-Streamed Concert Performance on Sunday, March 14th
Elgin, IL (March 5, 2021) – Elgin Youth Symphony Orchestra (EYSO) will present Wanderers, a series of three live-streamed concerts on Sunday, March 14. This is the second set of public performances in EYSO's Myths & Legends, the 45th season of one of Chicagoland's oldest and most respected performing arts education organizations. Students from some 70 communities will offer performances reflecting our inquisitive natures and passion for exploration through musical performances at 2 p.m., 4:30 p.m. and 7 p.m. Details are at www.eyso.org/concert
"EYSO musicians have been kindling the fires of curiosity all season," said Matthew Sheppard, artistic director. "Through music and stories, they have explored the strange world of sleep and dreams, reflected on historical and cultural wanderings and their interaction with tradition, and pushed so hard on musical boundaries that they had to wonder if and when they might break—and what that might even mean."
While EYSO students will be performing in person at the Blizzard Theatre of the Elgin Community College Arts Center, current COVID restrictions do not allow for an in-person audience, so EYSO will make the concerts accessible at no cost via live-streaming video, as it did for the Origins concerts in November. Featured performances include:
2 p.m. Concert: Prelude orchestra will perform music by Sydney Hodkinson and Giuseppe Verdi; Sinfonia will perform repertoire by Antonin Dvořák and William Grant Still, and selections from Jerry Bock's Fiddler on the Roof; EYSO's Hanson String Quartet will perform a movement from Dvořák's String Quartet No. 12, "American", and the Sinfonia/Philharmonia Percussion Ensemble will perform music by Toby Fox.
4:30 p.m. Concert: EYSO's Brass Choir will perform selections by Eric Whitacre and Modest Mussorgsky; Sinfonia/Philharmonia Percussion Ensemble will perform music by Toby Fox; Philharmonia will explore repertoire by Antonin Dvořák, Edvard Grieg, and Leonard Bernstein, the Earl Clemens Quintet will perform Three Shanties by Sir Malcolm Arnold, and the Sterling Brass Quintet will perform Frost Fire by Eric Ewazen.
7 p.m. Concert: This performance leads with a special side-by-side performance by EYSO's youngest students (Primo) with most seasoned ensemble, Youth Symphony, performing an original piece by EYSO alumnus and composer in residence, Ethan T. Parcell. The Youth Symphony will then perform works by Gabriel Fauré, Edward Elgar, Giuseppe Verdi, Carl Ditters von Dittersdorf, and Wolfgang Amadeus Mozart. Youth Symphony Percussion Ensemble will play music by Áskell Másson.
A PDF of the full program is at www.eyso.org/season-content/season-programs.
The learning experience at EYSO has continued in the face of COVID-19 as conductors and students continue to learn and make music together as the organization implemented strategies and protocols to allow for that to happen.
"In keeping with the EYSO's mission of a comprehensive learning environment—one that promotes critical thinking, curiosity, speculation, and collaboration—we focus on a larger curricular theme," Sheppard continued. "Using music as a lens to understand the human experience as expressed in masterworks of sound, students are challenged to perform great pieces of symphonic music at the highest possible level of excellence,"
Visit www.eyso.org/concert on March 14th to see and hear the concerts at no cost, and to access information such as program notes, donor acknowledgements and student rosters.
About EYSO
The mission of EYSO is to create a community of young musicians, enriching their lives and the lives of their families, schools, communities and beyond, through the study and performance of excellent music.
EYSO serves students from 70 Chicagoland communities and has a national reputation for providing students with an engaging musical experience and a comprehensive learning environment of curiosity, imagination, critical thinking, and collaboration. Students explore a thematic curriculum each season — one which helps students develop artistically and technically, and prepares them for a future of complex ideas, creative risk-taking, and leadership as global citizen. This approach has led hundreds of alumni to successful careers as professional musicians, educators, and strong leaders in every field. The theme of EYSO's 45th season is Myths & Legends, which explores how we make sense of the world around us through stories, fairy tales, myths, and legends through music as we build connections between ourselves and the wider world.
To learn more about EYSO, visit www.eyso.org or call (847) 841-7700.
#   #   #