Taking Note – October 2022

Tickets on sale for EYSO's Blueprints
Sunday, November 13, 2022 | 2PM, 4:30PM, 7PM 
In Blueprints, the first concert of EYSO's 2022-23 season, explore how music is built by investigating musical inspiration, design, and construction. What do the blueprints reveal in the formal structures of Bach fugues, the intimate musical portraits of Elgar's Enigma Variations, and the modern geometric structures and aleatoric adventures of 21st-century composers? With the student musicians of the award-winning Elgin Youth Symphony Orchestra, listen and explore how composers and artists employ principles of thoughtful design and construction to create meaning. You won't want to miss it. 
Tickets are available for purchase through tickets.elgin.edu. Can't make it to the theater? Livestream tickets can be purchased here.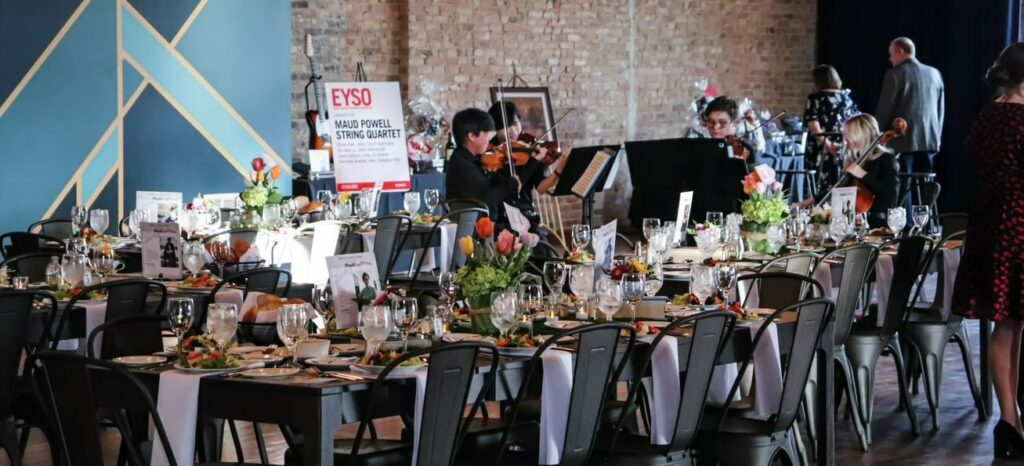 Join the EYSO Events Committee
The EYSO events committee organizes multiple events throughout the year benefitting the EYSO community. Upcoming events include EYSO's Spring Dinner & Auction, intimate donor receptions and a celebratory NOTES family event. This is a great volunteer opportunity that can have a major impact on the organization. 
The committee currently meets virtually once a month. To join or for more information, contact Kyla Brittain.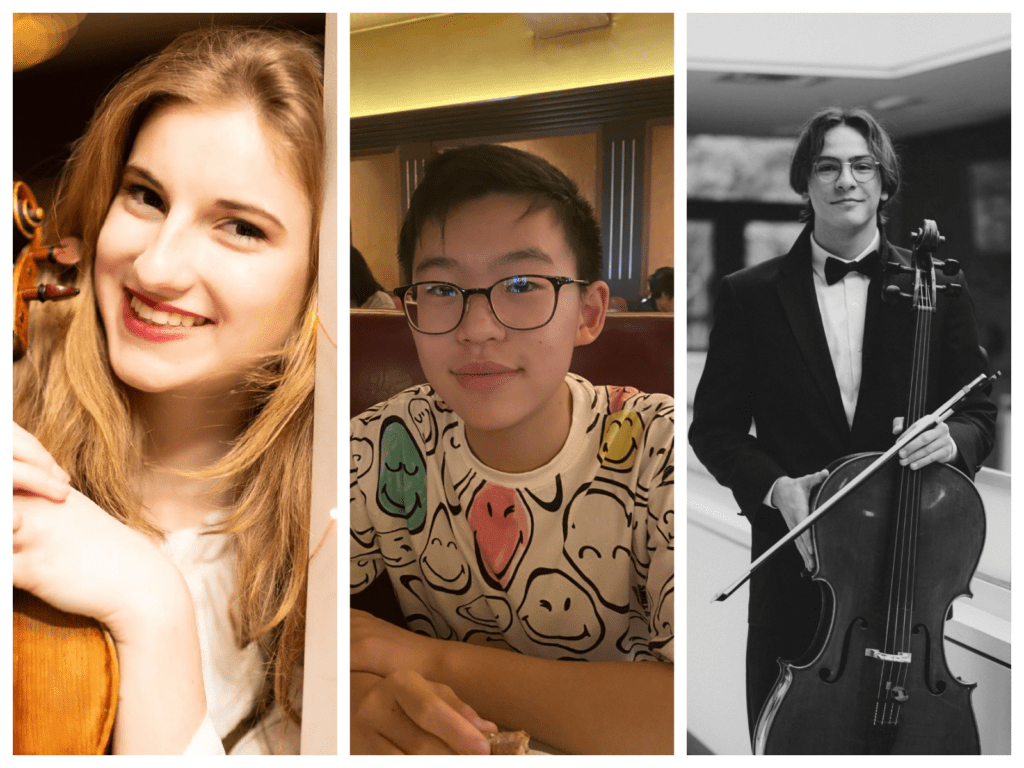 Pictured from left to right: Sofia Radovic, Kenneth Chang, Benjamin Gilbert
Young Artists Concerto Competition
The annual Young Artists Concerto Competition offers EYSO Youth Symphony and Philharmonia students the opportunity to perform a movement of a standard concerto on their instrument for a judging panel of esteemed music educators from across northern Illinois.
Fourteen Youth Symphony students and six Philharmonia students performed in the 2022-23 competition on October 8, and the judges selected three winners: Benjamin Gilbert (cello) and Sofia Radovic (violin) in Youth Symphony, and Kenneth Chang (cello) in Philharmonia. These students will perform as featured soloists with their orchestras in spring 2023.
Honorable Mention was awarded to Mina Chang (violin), Tessa Hazlett (flute), and Aleksa Radovic (violin) in Youth Symphony, and to Hanna Marszalek (violin) in Philharmonia. The judges were impressed by the high caliber of performance in this year's competition—congratulations to all 20 participants for taking on this exceptional feat!
Have you or someone you know watched an EYSO livestream concert in the past two years?
We want to hear from you! Please take our survey to help us improve the livestreaming experience for future concerts.​​ 
NOVEMBER
11.06.2022: CMI Concert at Spartan Auditorium, ECC - 12:45PM, 2PM, 4:30PM and no tickets required
11.13.2022: Blueprints Concerts at Blizzard Theatre, ECC - tickets available at eyso.org/concert
11.22.2022: Voting begins for EYSO's Geneva Giving Tree through the Geneva History Museum 
11.23-11.27.2022: EYSO offices closed for Thanksgiving Holiday
11.29.2022: Giving Tuesday 
DECEMBER
12.2.2022: Greater Elgin's Sing-Along Handel's Messiah at Blizzard Theatre, ECC- 7PM- tickets available at https://elginsing-alongmessiah.org/
12.11.2022: Sterling Brass Quintet and Maud Powell String Quartet at the St. Charles Public Library- 2PM, free to public
12.23-1.1.2023: EYSO offices closed for holiday break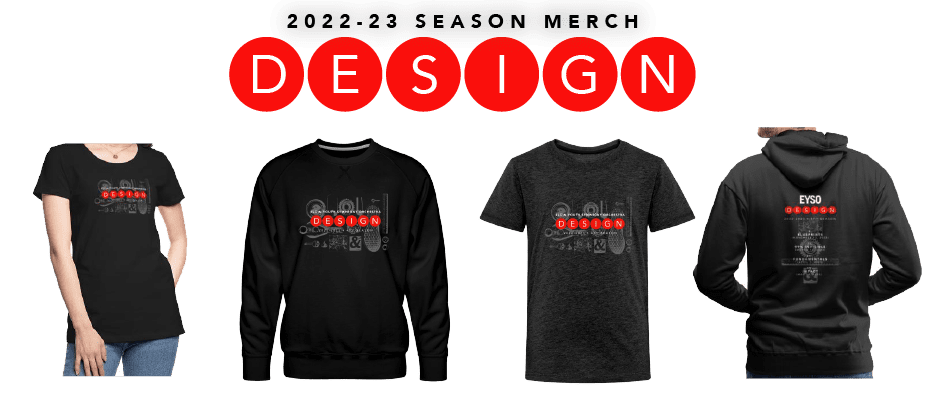 Simple Ways to Support EYSO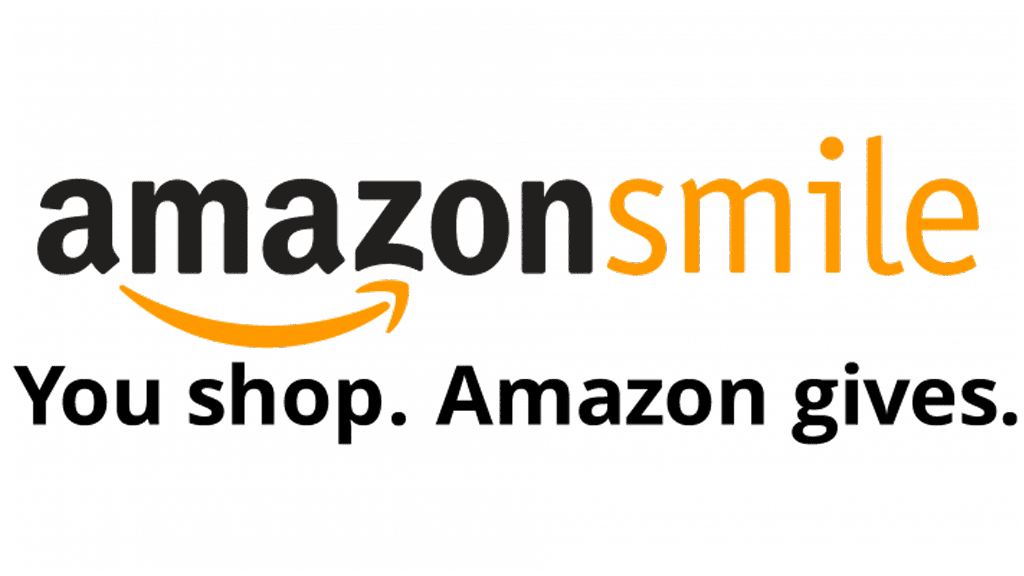 If you're an Amazon shopper, please bookmark: smile.amazon.com and select "Elgin Youth Symphony Orchestra" as the nonprofit to support. This is an easy way to give to EYSO doing what you're already doing. Every amount adds up and is a great help to our fundraising efforts.
If you'd like to be notified by email when these monthly newsletters are posted, please click the button below to sign up.