Taking Note – Issue 39, June 2022
EYSO'S A NIGHT AT THE MOVIES
WEDNESDAY, JUNE | 7pm
THE ARACADA | ST. CHARLES, IL 
Tickets are selling quickly to EYSO's A Night at the Movies. Movie lovers of all ages will enjoy this live performance featuring students from EYSO's Youth Symphony.  The evening will include the unforgettable scores from blockbuster movies including Pirates of the Caribbean, West Side Story, Lord of the Rings, Star Wars and MORE! This is an EYSO performance you won't want to miss! Limited tickets will be available day of so get yours today!  For more information visit Arcada - Elgin Youth Symphony Orchestra (eyso.org)
To purchase tickets, click here.
RESTAURANT NIGHT- WEDNESDAY, JUNE 29
In conjunction with A Night at the Movies, EYSO has partnered with three downtown St. Charles establishments to receive a portion of sales on Wednesday, June 29 for both dine-in and pick-up options. You do not have to attend the concert to participate and don't forget to mention "EYSO" when ordering. 
Gia Mia (St. Charles location only) -  31 S. 1st St. | St. Charles 
Moto | imoto- 181 S. 1st St. | St. Charles 
Kimmer's Ice Cream (St. Charles location only)- 181 W. Illinois St. | St. Charles 
Support EYSO while enjoying a fantastic meal and delicious dessert.  Reservations are highly encouraged at Gia Mia and Moto.
*If ordering online, use code EYSO0629 at Gia Mia and Moto.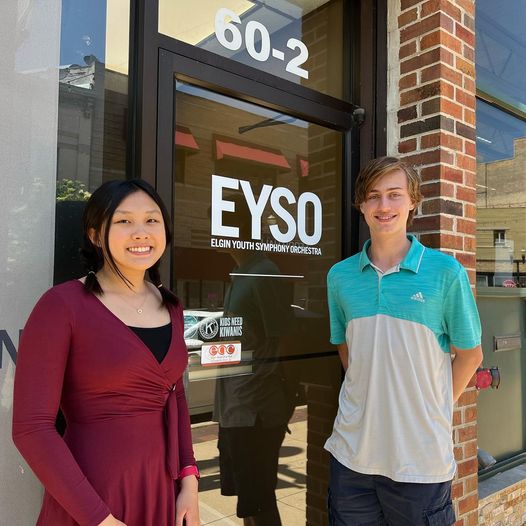 INTRODUCING EYSO'S STUDENT SUMMER EMPLOYEES
Thanks to a generous grant funded by the Illinois Arts Council Agency, we are pleased to introduce EYSO's summer student employees. Savanna Huang and Derek Hibben will work closely with EYSO administration in the areas of marketing/communications and operations respectively. Both students have hit the ground running and are already making valuable contributions. We are so excited to have them on staff!

SUPPORT EYSO
As we celebrate this past season, EYSO is laser focused on moving strongly into our 47th season! We want the EYSO difference to enrich the lives of more students across more communities than ever before. We encourage you to be a part of this effort by supporting EYSO today. Your support means opportunity, inspiration, and growth for those students that call EYSO home each week of our season. Most importantly, your commitment will ensure a strong and vibrant EYSO for this upcoming year and beyond.  
Join EYSO by making a meaningful gift today! Donate Now! 
JUNE
06.29.2022: EYSO at the Arcada: 7pm  Purchase tickets in advance of the event.

JULY
07.04.2022: City of Elgin 4th of July Parade
07.25 - 07.29.2022: Summer Chamber Music Camp: Click here for more information.
Simple Ways to Support EYSO
If you're an Amazon shopper, please bookmark:
smile.amazon.com
and select
"Elgin Youth Symphony Orchestra"
as the nonprofit to support. This is an easy way to give to EYSO doing what you're already doing. Every amount adds up and is a great help to our fundraising efforts.
If you'd like to be notified by email when these monthly newsletters are posted, please click the button below to sign up.