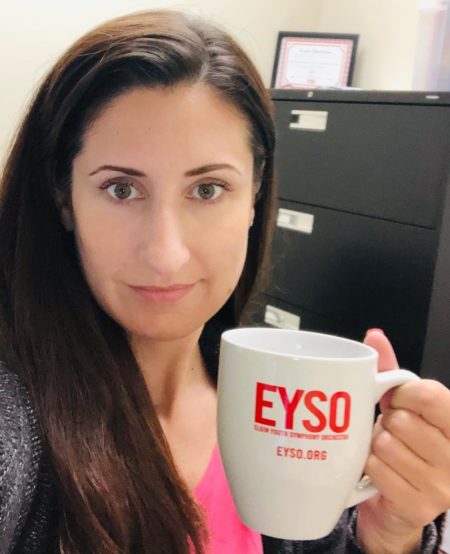 Thank you for subscribing to our newsletter.
Taking Note
is one way we keep in touch with our supporters. COVID-19 has changed all of our lives dramatically. Not being able to host events has created challenges in how we engage with our supporters. But with every new challenge comes opportunity. Since the beginning of June, we've been making efforts to reach each supporter individually. Email blasts are great for monthly updates, but to really stay connected, nothing beats engaging with you as an individual.
Recently, you may have been contacted by a
board member
,
Executive Director K. Eric Larson
, or
me
. This outreach will continue from all of us. I have been with EYSO since February 2018, admittedly, I've relied heavily on in-person events to get to know our supporters. I love events and talking to people, but one sliver lining this spring is a new opportunity to really get know those who mean so much to us. I've had some wonderful conversations and have learned a lot--I look forward to more!
If you haven't heard from me yet, feel free to reach out. Otherwise, I will be reaching out to you very soon. With COVID-19 restrictions loosening and warmer weather arriving, I'd love to schedule lunch or coffee with interested supporters (safely socially distanced, of course). If you're not ready for an in-person meeting, let's schedule a Zoom or phone chat. Of course, this doesn't only apply to me, the invitation is extended by all of our board and staff. I hope to learn how I can better serve and engage our supporters.
Thank you so much for being a part of EYSO! YOU are genuinely appreciated!
--Kari Christensen, Dir., Development & Community Engagement (KLChristensen@eyso.org, Call or text: 847-558-2246)