---
---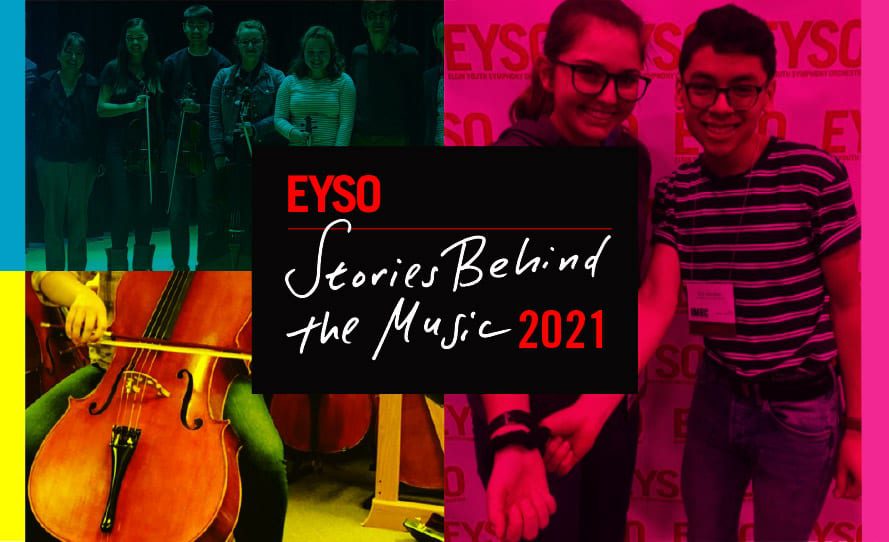 Host Committee
Sarosh Saher*
Eric Larson*
Ed Snoble*
Ellen Sheppard
Diane Stredde* §
Kari Christensen
Susanna Graham
Lorie Estanislao
Corry Fitch
Allison Winsor* § *Member of the Board of Directors
§ Host Committee Co-Chairs
---
What is Stories Behind the Music?
Stories Behind the Music
is an "up close and personal" view of EYSO, told in the words of students, teachers, and volunteers –– and your invitation to become part of the life-changing experiences you will hear in these stories.
Why is it so important?
The COVID-19 pandemic has been tough on arts organizations, both economically and psychologically. Many have "paused" their programs, others have shuttered their doors, but some – like EYSO – have found ways to persevere, remain true to their missions, and enrich the lives of their members and supporters in the face of great odds. Despite unprecedented challenges, EYSO found a way for our students to safely rehearse and perform in person; to continue their collaborative learning and life exploration through the study and performance of excellent music. But this dedication to mission has come at significant financial cost.
Revenues from ticket sales and performance fees are down, and operating safely in a COVID-19 environment has added extraordinary expense.
How can you help?
EYSO is one of Chicagoland's oldest and most respected youth orchestras, serving students in fourth grade through college from nearly 70 Northern Illinois communities. As you view these stories, you'll see over and over again references to community, hard work and perseverance, and looking beyond the surface to come up with solutions. Your gift to EYSO – in whatever amount you can afford – helps ensure that these
Stories Behind the Music
continue uninterrupted. Your gift, made today, directly supports EYSO students facing and embracing a future of complex ideas, creative risk-taking, and leadership as global citizens.
Please become part of these Stories Behind the Music - make a gift to EYSO today!
P. S. Have you heard?
EYSO was recently named the Illinois Council of Orchestra's 2021 Youth Orchestra of the Year,
a competitively awarded honor distinguishing EYSO among youth orchestras in the state. Another wonderful Story Behind the Music – and another great reason for donating to EYSO today…thank you!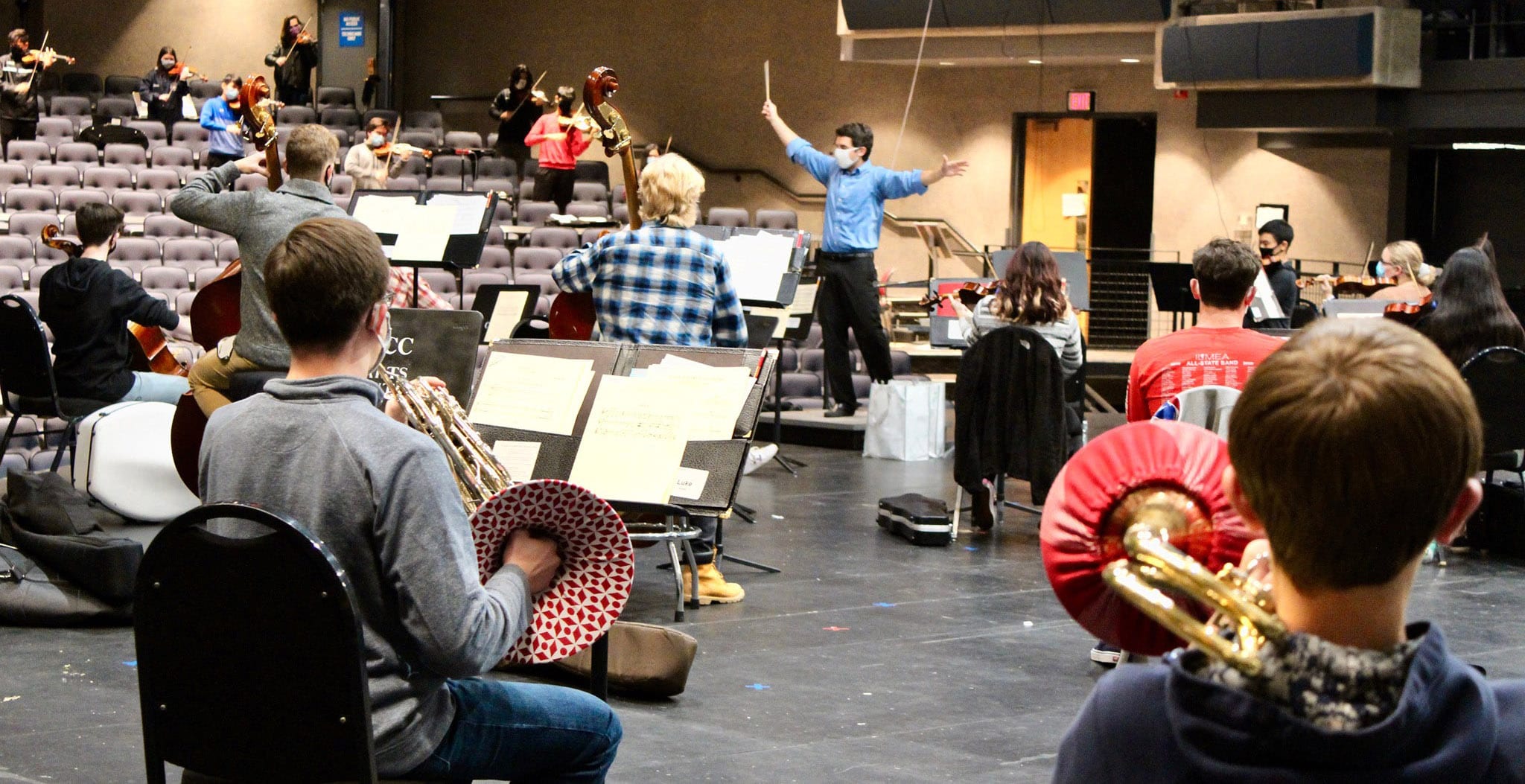 Thank you for caring and becoming a member of the EYSO family!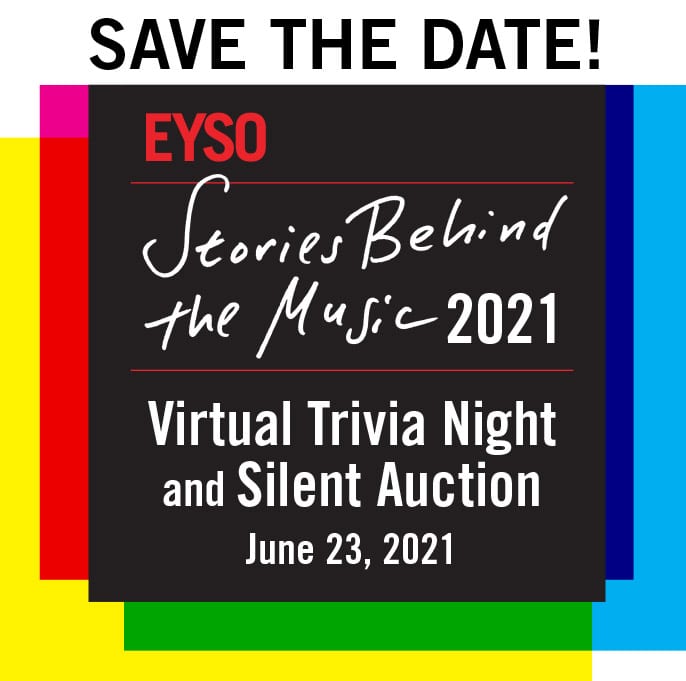 Timeline for Virtual Trivia Night
and Silent Auction
05.01.2021 
Virtual Trivia Night Registration Opens!
Create a "table" of 8 and have a fun night playing trivia with your family and friends. Since it is virtual, they can live anywhere!  
06.01.2021
The Stories Campaign Launch
& 50/50 Raffle Ticket Sales Open!
You are invited to get "up close and personal" with EYSO. Listen to stories told in the words of students, teachers
and parents.  
06.9.2021 
Registration for Virtual Trivia Event closes
06.16.2021 
Silent Auction and 50/50 Raffle Open!
Click here to put your bid on the wonderful items and experiences we have to offer! Try your luck on the 50/50 Raffle!  
06.23.2021 
Virtual Trivia Night and Silent Auction and Raffle!
Get ready for a fun night with family and friends. Auction and raffle winners will be announced at the end of the night!
06.30.2021 
Close of the Stories Behind the Music campaign
and our Fiscal Year!
Thank you for supporting EYSO and helping us end the year on a positive note!
---
---
---
---
---
Stories Behind the Music - Campaign Status
Campaign Fundraising Goal: $25,000 by June 30, 2021
Funds Raised: $0 | Funds Remaining: $00%
---
---