Illinois Council of Orchestras names EYSO Volunteer Anthony Riani as Volunteer of the Year 
News Release  
FOR IMMEDIATE RELEASE Media Contact: K. Eric Larson
847-997-2109 
elarson@eyso.org 
Click Here to Download a PDF: Volunteer of the Year Post Concert Release
Illinois Council of Orchestras
names EYSO Volunteer Anthony Riani as Volunteer of the Year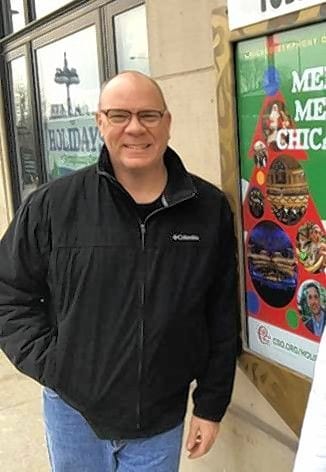 Elgin, IL (May 14, 2020) – The Illinois Council of Orchestras has named Anthony Riani as Volunteer of the Year for his service to the Elgin Youth Symphony Orchestra during the 2018-19 season, largely focused on his video recording and editing contributions. 
EYSO staff say Riani's efforts go above and beyond volunteerism to the point that he has become an invaluable member of the EYSO team, and his dedication to and understanding of EYSO's core values and mission are reflected in his work and attitude.   
Riani's most recent contribution helped EYSO conclude its 2019-20 season with Folklórico, a virtual concert featuring all EYSO ensembles, including its three full orchestras, two string orchestras, Brass Choir, and EYSO Samba Band and preconcert performances by EYSO Honors Chamber Ensembles. The recording of the concert is available at www.eyso.org/concert. 
"The EYSO spirit of innovation, curiosity, and enthusiasm burns brightly as students, families, staff, and volunteers came together to create something truly spectacular," said Artistic Director Matthew Sheppard, "a digital concert cycle and final performance, with all the hallmarks of expert noticing we've come to appreciate in EYSO. " 
Riani, lives in Geneva and is father of two EYSO players. Anaka played trumpet in Sinfonia, Philharmonia, and Youth Symphony, and was a member of the Sterling Brass Quintet 2016-17. Rebecca is now in her seventh season with EYSO, playing violin. Riani spent most of his career in the print industry, but has loved music since his own school days. He started the trombone in fifth grade (although his first choice would have been trumpet) and played in band, marching band, solo ensemble, and musical pit orchestras.   
After high school, he continued to play in the Addison Community Band. It was during Anaka's second EYSO season that Anthony decided rather than just dropping off his girls at rehearsal, he would stay and watch. More and more fascinated with the EYSO approach—encouraging curiosity, imagination, critical thinking and collaboration (which he admits was different than his own musical experience as a kid)—he had an idea. Why not use his skills as a videographer to provide the conductors with a weekly video of their rehearsal, to review and use to plan the following week? 
EYSO now retains a library of thousands of hours of high-quality videography, a priceless resource for a performance arts and educational organization like EYSO. Riani manages every aspect of recording and editing every rehearsal and concert throughout the entire season and has been doing so efficiently and reliably for five years.  
"We all appreciate his dependability, flexibility, and generosity of time," said Sheppard, "but most of all we value his enthusiasm and ever-cheerful 'Yes, we can!' attitude."  
Riani's passion for the organization shines through not only in the amount of time he dedicates to EYSO, but also in his ability to recall precise moments. He genuinely cares about what students are doing to be fully present and immersed in their work. While managing the technical aspect of videography, he is also taking note, both physical and mental, during recordings. When asked if he remembers a certain moment, he is almost always able to quickly recall and locate video of what is been requested.   
In addition to recording all the rehearsals and concerts, Riani often comes with up with original ideas to broaden EYSO's exposure. During the 2018-19 season, he helped students with their NOTES campaign. NOTES is an annual student led fundraising campaign that engages students in philanthropy by sharing their EYSO story. Historically, students shared their EYSO stories by writing letters (and eventually emails) to their friends, family, and community. Riani understood the importance of this campaign and developed a method of making personalized videos for students, tailored to their ensembles. He has refined these videos and process, and the personalized video is now a permanent part of EYSO's NOTES campaign.  
About EYSO 
The mission of EYSO is to create a community of young musicians, enriching their lives and the lives of their families, schools, communities and beyond, through the study and performance of excellent music. EYSO serves nearly 400 students from 70 Chicagoland communities and has a national reputation for providing students with an engaging musical experience and a comprehensive learning environment of curiosity, imagination, critical thinking, and collaboration. Students explore a thematic curriculum each season—one which helps students develop artistically and technically, and prepares them for a future of complex ideas, creative risk-taking, and leadership as global citizen. This approach has led hundreds of alumni to successful careers as professional musicians, educators, and strong leaders in every field. The 2019-20 season theme was MOVE. It explored the rich traditions of Dalcroze, ballet, and folk dance including collaborations with Joffrey Ballet artist Luis Vazquez. To learn more, visit https://www.eyso.org or call (847) 841-7700. 
#   #   #