Elgin Youth Symphony Orchestra Steps into the Extraordinary with Three Performances on May 8th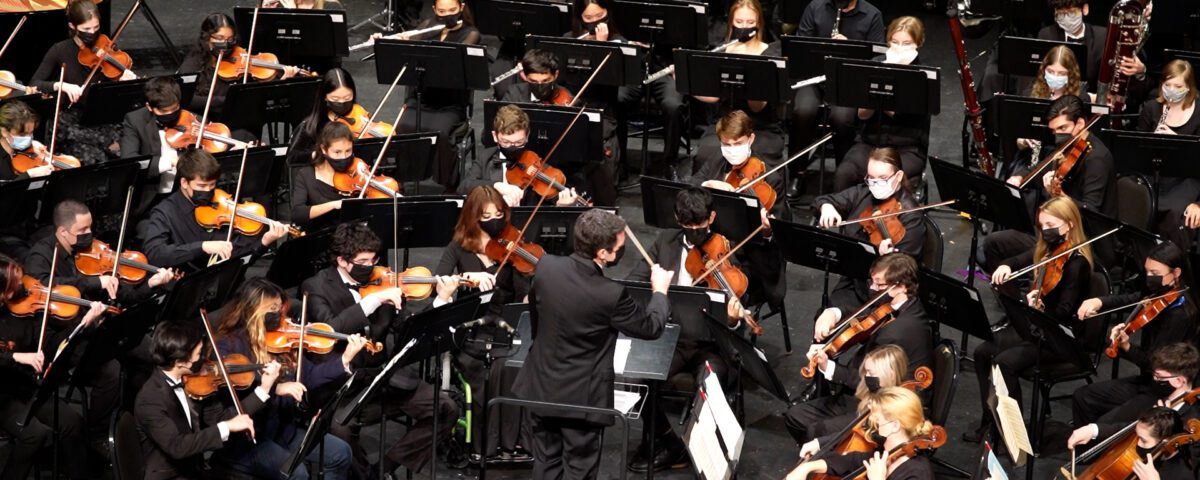 Elgin Youth Symphony Orchestra Steps into the Extraordinary with Three Performances on May 8th
300 Students from 70 Communities Perform in EYSO's Final Concert of the Season
(Elgin, IL) Join the student musicians of Elgin Youth Symphony Orchestra for Through the Looking Glass, the final concert in the 2021-2022 season, FLIPPED, that examines how a shift in perspective can make a world of difference in music. Three concerts on May 8, 2022, at 2, 4:30, and 7 p.m., offer an opportunity to enjoy an afternoon of classical music presented by the award-winning EYSO.
The Illinois Council of Orchestras awarded EYSO 2021 Youth Orchestra of the Year and 2022 Programming of the Year and Conductor of the Year, recognizing Artistic Director Matthew Sheppard.
"With a title inspired by Lewis Carroll's Alice Through the Looking Glass, we step past the ordinary into the extraordinary, through music that explores new sonic worlds and possibilities," said Sheppard.
Early to intermediate level musicians present a fanciful range of repertoire at the 2 p.m. matinee: Richard Meyer's Curse of the Rosin Eating Zombies from Outer Space, a tribute to monster movie soundtracks; Clare Grundman's Second American Folk Rhapsody, a work blending familiar folk songs in a unique way; Katherine Hoover's Trio for Flutes, a quirky and fun palindrome; and No Evil Star, specifically composed in 2017 for EYSO by alumnus and Composer-in-Residence Ethan T. Parcell.
The 4:30 p.m. concert includes performances by middle to advanced level musicians. Concertgoers experience two dotty musical mashups, P.D.Q. Bach's 1712 Overture and Walter Murphy's A Fifth of Beethoven, and enchanting music scored by Harry Gregson-Williams and Stephen Barton for the film The Chronicles of Narnia: The Lion, the Witch, and the Wardrobe.
At 7 p.m., Youth Symphony, EYSO's flagship orchestra, performs two magical and mystical works: Sensemayá by Mexican composer Silvestre Revueltas, based on the poem of the same title by the Cuban poet Nicolás Guillén and The Pleasure Dome of Kubla Khan, a hypnotic tone poem by American composer Charles Tomlinson Griffes and inspired by the famous poem Kubla Khan, which came to poet Samuel Taylor Coleridge in a dream.
Niku Myers, a senior at West Chicago Community High School who was selected as a concert soloist at EYSO's annual Concerto Competition, continues the dreamy, evocative quality with a marimba performance of Alan Hovhaness' Fantasy on Japanese Woodprints. The concert concludes with Youth Symphony's traditional performance of the English "fare thee well" ballad, The Turtle Dove, in recognition of the orchestra's graduating members.
All concerts are in Blizzard Theatre, Elgin Community College Arts Center, 1700 Spartan Drive, Elgin. In-person tickets are available at tickets.elgin.edu or by calling the box office at (847) 622-0300. Livestream tickets are sold at EYSO.org/concert. In-person and livestream tickets are $32.00 (including fees). Patrons are required to wear masks and to show proof of COVID-19 vaccination or a negative test within 72 hours of performance date and an ID.
About EYSO   
The mission of EYSO is to create a community of young musicians, enriching their lives and the lives of their families, schools, communities and beyond, through the study and performance of excellent music.  
Since its beginnings as a small string orchestra in 1976, EYSO has grown to a community of eight large ensembles and nearly thirty chamber music ensembles. EYSO, in its 46th season, serves students from 70 Chicagoland communities and has a national reputation for providing students with an engaging musical experience and a comprehensive learning environment of curiosity, imagination, critical thinking, and collaboration. Students explore a thematic curriculum each season — one which helps students develop artistically and technically, and prepares them for a future of complex ideas, creative risk-taking, and leadership as global citizens. This approach has led hundreds of alumni to successful careers as professional musicians, educators, and strong leaders in every field.   
To learn more visit EYSO.org, or call (847) 841-7700.