Taking Note – Issue 32, November 2021

A STANDING OVATION FOR EYSO

It was a spectacular return to performing for live audiences on Sunday, November 14. Aside from the dynamite performances of our nearly 300 students, the day was filled with other special moments including the debut of EYSO's flute choir, a flash mob by Primo and the return of Youth Symphony's post-concert chats.   
We want to thank everyone who joined us in-person and on the livestream and everyone who made this day possible: parents, volunteers, donors, Elgin Community College and most importantly our students.  
Missed the concerts? Check out our
youtube channel
and social media sites over the next few weeks for concert clips.   
GIVING TUESDAY- TUESDAY, NOVEMBER 30!
Help us reach our goal of $10,000 on Giving Tuesday.  Donations from Giving Tuesday will be invested directly into our students' journey of inquiry, creativity and growth.

Will you support the EYSO difference on Giving Tuesday? 
We are excited to announce Brittain's Express Oil & Lube and Brittain's Express Car Wash are matching the first $4,000 donated on Giving Tuesday.
   Here's how can you help EYSO reach our goal of $10,000:  


Create your own Facebook Fundraiser 
Share and like our Giving Tuesday's post on Facebook and Instagram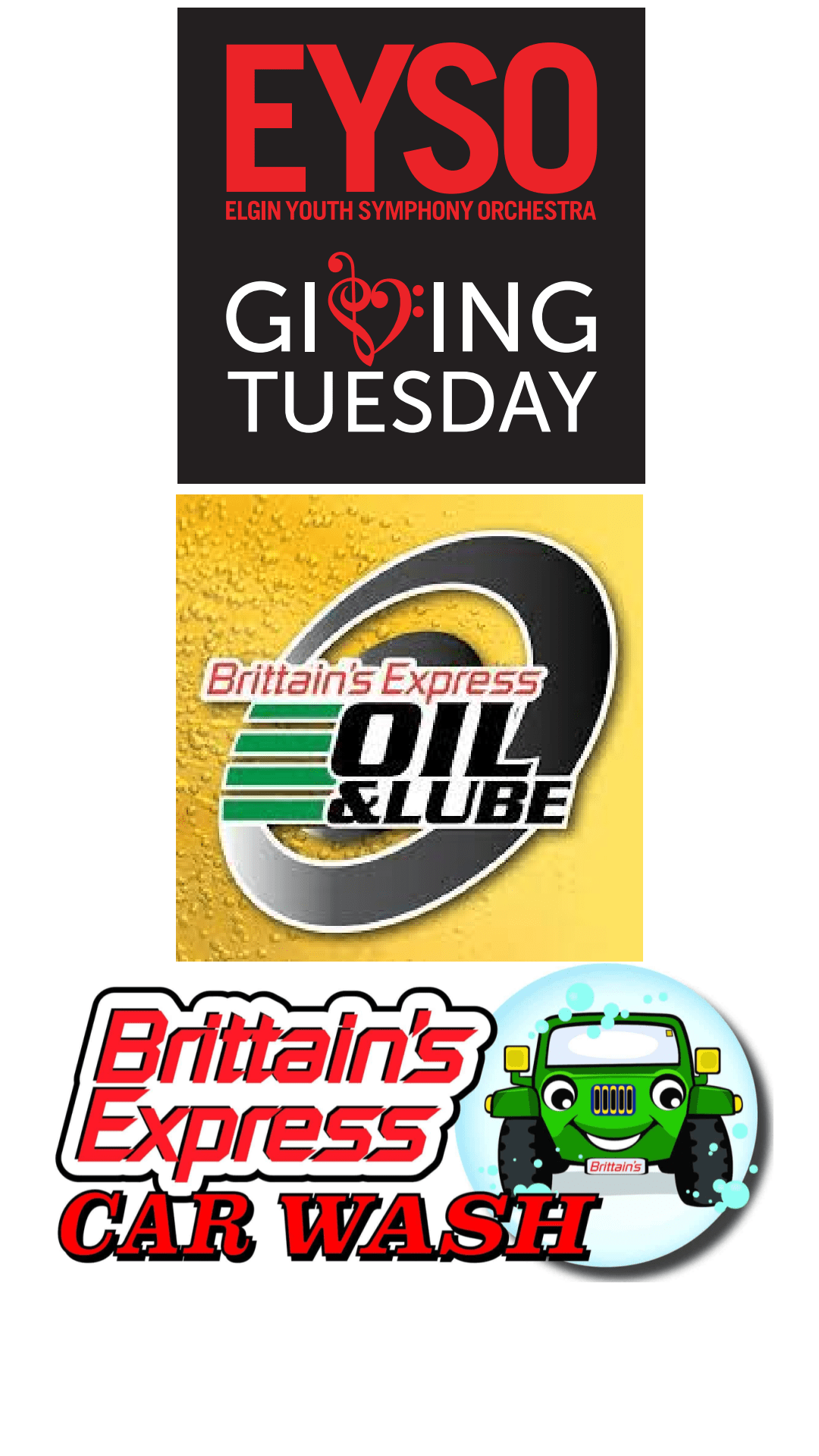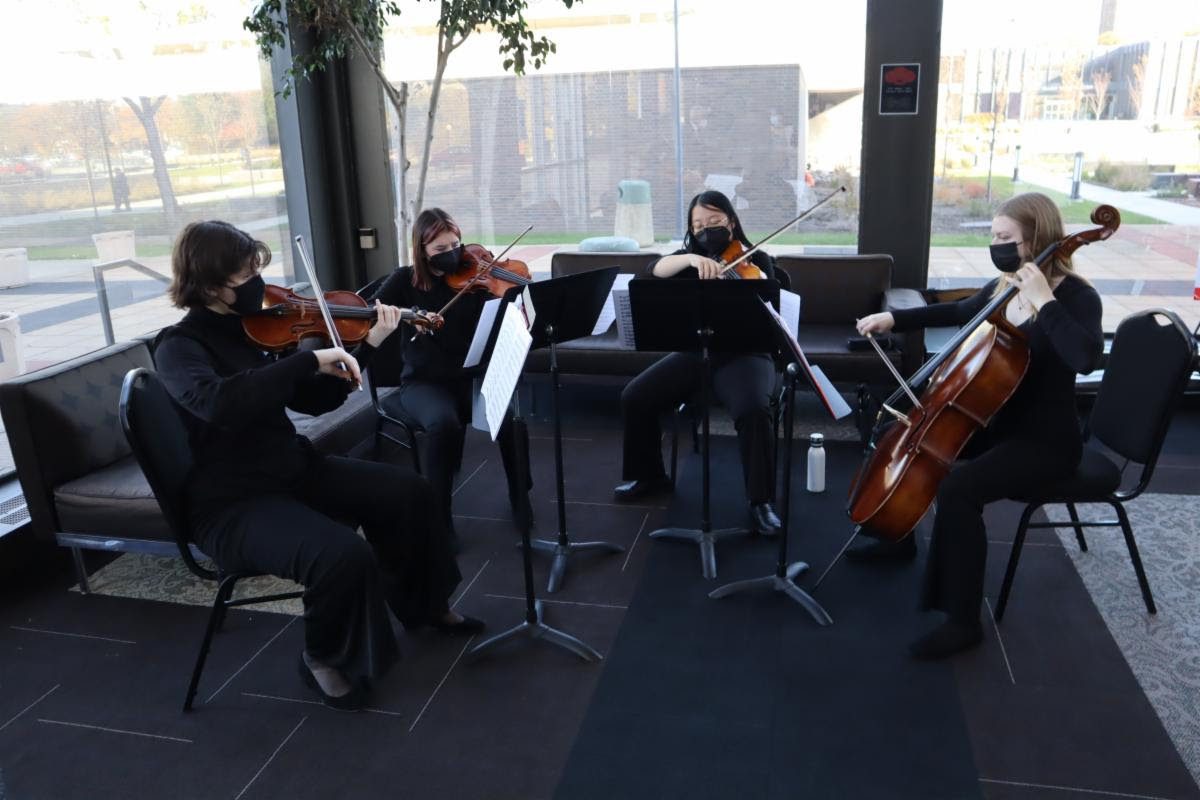 Photo courtsey of Elgin Symphony Orchestra.
EYSO at ESO

Thank you to the Elgin Symphony Orchestra for welcoming the Hanson String Quartet and Earl Clemens Wind Quintet to perform pre-show and during intermission at their November 6 and 7 concerts at Hemmens Auditorium. It was great to partner with the ESO and to see many familiar faces.  
EYSO gratefully recognizes
THE AINSWORTH FAMILY
for their loyal and dedicated commitment to EYSO. 
This month EYSO gives thanks to those who have supported us throughout November. 
EYSO would not be possible with the devotion and generosity of each of you. To join this special group of people and invest in the student musicians of EYSO,
donate today
.
Monica Agler
Laura Alegria
Seven Austin
James and Lois Bauer
Richard and Kristine Benson
Joe and Elena Beribak
Glenn and Susan Bremer
Randy and Carol Brittain
John and Kyla Brittain
Luis and Judy Cabrera
James Dettling
Beth Emmelot
Keith Fryer
Neil Garlock
John Hanlon
Marilou Haworth
Amy Hitchinson
Florence Hoppe
Sandy and Dave Horton
John Hrdlick
Joann Jazak
Steve and Linda Knight
The Kochman Family
Harold and Donna Lamme
Ruthie Lehmann
Steve and Lynn Martin
Karen and Milf Mikkelson
Linda and Joe Murray
William Roberts
Sarosh and Kamal Saher
Mark and Ellen Sheppard
Edward Snoble
Dianne Stredde
Dale Terry
Yenny Tunggal
Arthur Tyrrel
Peter Van Nortwick
The Virgil Family
Mark Weiss
Jeffrey Wheeler 
Diana and Ryan Williams
Herman and Mary Zwirn
NOVEMBER
11.24-11.28 EYSO Office Closed for Thanksgiving Holiday
11.30.2021: Giving Tuesday
DECEMBER
12.4.2021: Maud Powell String Quartet Performance- The Centre of Elgin at 1pm-3pm (Free to Public)
12.5.2021: Sterling Brass Trio and Hanson String Quartet Performance- St. Charles Public Library at 2pm-3pm (Free to Public)
12.11.2021: Sterling Brass Trio Performance at Habitat for Humanity at 1pm-3pm (Free to Public)

Simple Ways to Support EYSO
If you're an Amazon shopper, please bookmark:
smile.amazon.com
and select
"Elgin Youth Symphony Orchestra"
as the nonprofit to support. This is an easy way to give to EYSO doing what you're already doing. Every amount adds up and is a great help to our fundraising efforts.
THANK YOU FOR TAKING NOTE!
If you'd like to be notified by email when these monthly newsletters are posted, please click the button below to sign up.