Press Release PDF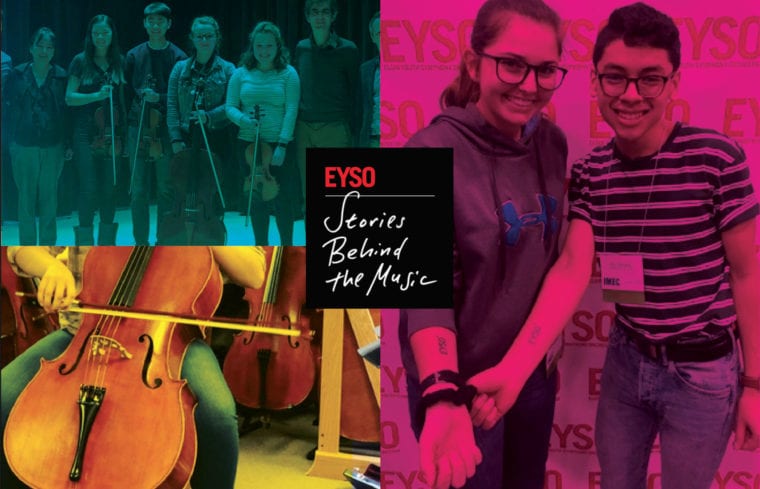 Stories Behind the Music
Join us for a storytelling journey where you will experience personal stories from staff, students, alumni, board members, and others with a personal connection to EYSO.
Finding ways to connect--when we are required to remain separate--is challenging. Since 1976, EYSO has been a place of connection and belonging for hundreds of young people. EYSO families value the sense of community that is such an important part of EYSO, making coming together and forging ahead even more important.
This Season
In March
, we suspended in-person rehearsals, then pivoted to distance learning via
Zoomhearsals
(you'll learn more about these in our stories) without missing a single Sunday afternoon of scheduled activity. More recently, we moved our
May 10th season finale concert to an online format
. Conductors, coaches and students have worked enthusiastically and passionately toward this reimagined
virtual performance
.
EYSO is known for great concerts -- the culmination of weeks of engaging, dynamic, and thought-proving collaboration in the rehearsal room. While
Zoomhearsals
and virtual concerts don't replace time together in the rehearsal room and on stage, these efforts offer a glimpse into the
"EYSO difference"
.
If you've ever wondered who does all of our beautiful artwork, it's longtime board member and EYSO parent, Noel Childs. You'll be hearing from Noel and his family during this campaign. In the meantime, please visit Noel's site to learn more about him and his work by visiting:
NoelChilds.com
Why are we doing this?

1. To raise awareness.
Learn how EYSO impacts the personal growth and development of students and why EYSO has been a place of refuge, connection, and belonging to hundreds since 1976.
2. To raise funds.
The goal of this campaign is to raise
$30,000
to ensure that EYSO continues to fill this critical niche as we navigate through the COVID-19 crisis.
Thank you for caring and becoming a member of the EYSO family.
---
Stories Behind the Music - Campaign Status
Campaign Fundraising Goal: $30,000 by June 30th
Funds Raised: $30,725 | Funds Remaining: $0100%
We also have a Facebook fundraiser (as of May 19th). We will post updates from Facebook to the website progress bar once per day.
However you are supporting, we THANK YOU! Here's a link to the Facebook fundraiser.
---