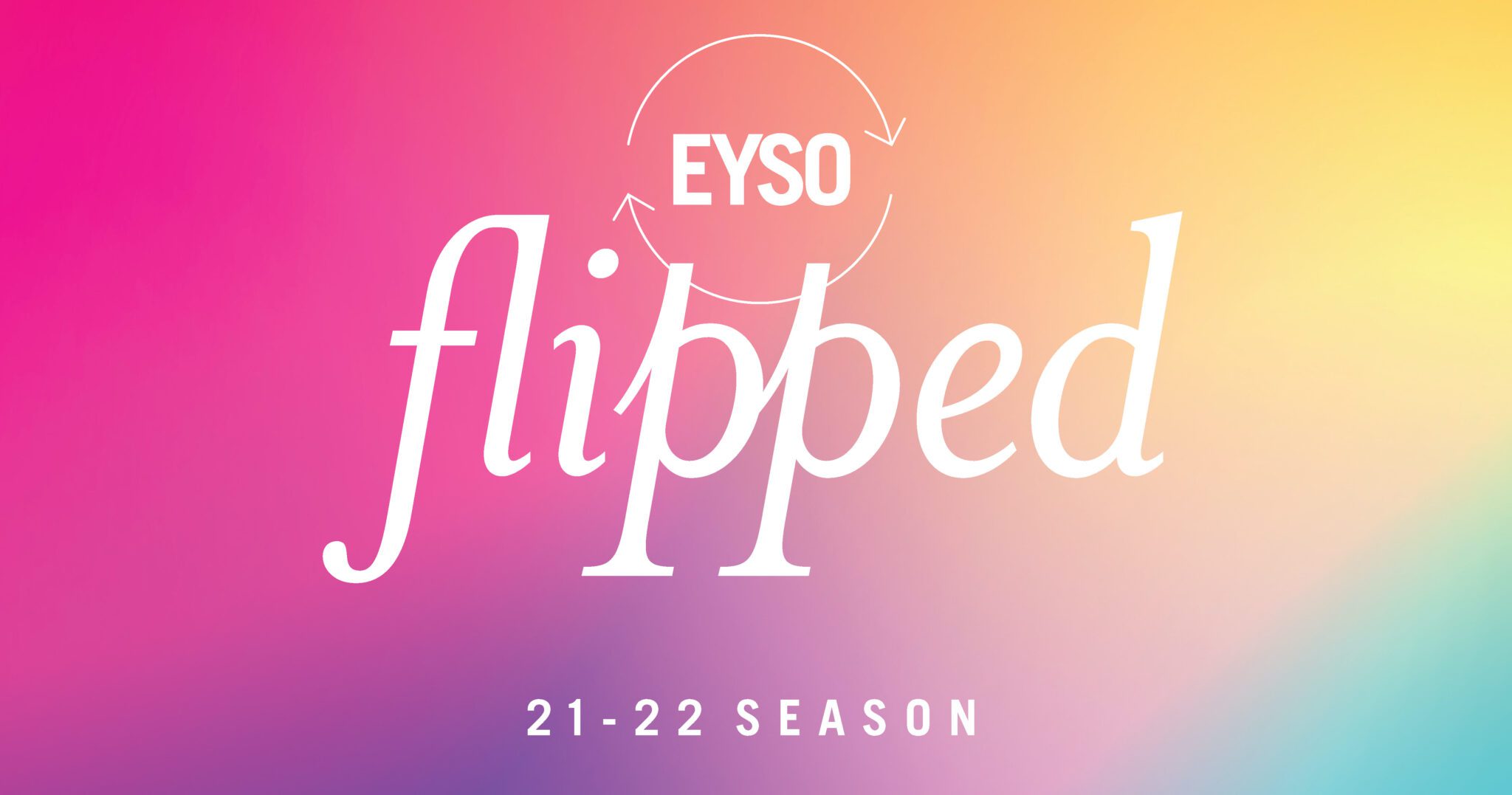 Welcome to
EYSO's CMI Concert Livestream!
On Sunday, April 10th at 12:45, 2:00, and 4:30PM,
three concerts featured performances by our Chamber Music Institute Ensembles. 
MPSQ performance cancelled – catch the Maud Powell String Quartet in the Honors Chamber Ensemble recital later this spring.
Looking for the livestreams? Log into your student's member page and check out the landing page for CMI to view the videos.
*Please note that this page has been optimized for Google Chrome. Certain special characters may not show up properly in other browsers.
Message from the Chamber Music Institute Director

It's time for a spring triumph!

The work that goes in to a performance like this is immense. Families at home know the hours of practice, rehearsal, and lessons. But there's something different about the difficulty of chamber music: it'a group laying the vulnerability of their own work and imaginations before each other in order to combine and create something and new. It's a special challenge and today we get a glimpse of the rewards.

This set of concerts mark the first EYSO concert with no capacity restrictions since 2019. We're thrilled to open up to even more family, friends, and community to share this experience live, while also being luck to include friends from afar via livestream.

These performances represent hours tuning, counting, clapping, repeating – as well as laughing, dreaming, striving and celebrating. Thank you for supporting the students in reaching this moment. And to our performers: congratulations!

Roslyn Green
Chamber Music Institute Director

Want more chamber music? Check out eyso.org/summer to sign up for our Summer Chamber Music Camp!
12:45PM Concert
Windtet
Claude Debussy (1862-1918) Rêverie
arr. Ray Thompson
Wolfgang Amadeus Mozart (1756-1791) German Dance No. 1, KV 509

Keine Heißen
Johannes Brahms (1833-1897) Three Songs, Op. 62
arr. Holland III. Waldesnacht etwas langsam

Michael Praetorius (1571-1621) Ballet de la Comedie
arr. Riley
Pink Flute Trio
Johann Joachim Quantz (1697-1773) Sonate for Three Flutes
II. Largo
I. Vivace

the violIncello quartet
Ottorino Respighi (1879-1936) Ancient Airs and Dances, Set 1
Balletto

Percy Aldridge Grainger (1882-1961) Shepherd's Hey, English Morris Dance Tune

Scarlet Quintet
Johann Sebastian Bach (1685-1750) Trio Sonata in G Minor
III. Vivace

Benjamin Britten (1913-1976) Simple Symphony
IV. Frolicsome Finale

Antivla
Claude Debussy (1862-1918) Rêverie

Maurice Ravel (1875-1937) Ma mère l'Oye
Le Jardin Féerique

Maurice Ravel (1875-1937) Menuet

Hanson String Quartet
Dmitri Shostakovich (1906-1975) Shostakovich Quartet No. 9 in E-flat Major, Op. 117
III. Allegretto
IV. Adagio

2:00PM Concert
Oboe & Friends
Paul Taffanel (1844-1908) Wind Quintet
I. Allegro con moto

12 Strings
Leopold Mozart (1719-1787) Frosch - Parthia
I. Moderato
III. Vivace

Berry Quartet
Wolfgang Amadeus Mozart (1756-1791) Divertimento in D
I. Allegro

Paolo Quartet
Edvard Grieg (1843-1907) String Quartet in G minor, Op 27
I. Un poco andante - allegro molto ed agitato

The Three Thirds Quartet
Hermann Speilter (1860-1925) Leichte Serenade für Streichtrio, op. 32

Jean-Denis de Beauvoir (b.2005) Trio, op. 4
Allegretto and Fugue

The JAMS Quartet
Jean-Joseph Mouret (1682-1738) Rondeau
arr. Lynne Latham
The Blackhole String Quartet
Wolfgang Amadeus Mozart (1756-1791) Eine Kleine Nachtmusik
I. Allegro

Sterling Brass Trio
Václav Nelhýbel (1919-1996) Trio for Brass
I. Leggiero marcato
II. Andante moderato
IIIA. Molto vivo, con bravura
IIIB. Andantino
IIIC. Vivo marcatissimo
IIIF. Maestoso molto moderato
IIIG. Molto vivo con bravura

4:30PM Concert
Earl Clemens Wind Quintet
Boris Claudio "Lalo" Schifrin (b. 1932) La Nouvelle Orleans

György Ligeti (1923-2006) Sechs Bagatellen
I. Allegro con spirito
III. Allegro grazioso

Party People
Antonín Dvořák (1841-1904) String Quintet No. 2 Op. 77
I. Allegro con fuoco

Variations on a Quartet
Antonín Dvořák (1841-1904) Terzetto in C Major, Op. 74
I. Introduzione. Allegro ma non troppo
II. Larghetto

Fuchsia Trio
Ludwig van Beethoven (1770-1827) String Quartet, Op. 59 No. 1
I. Allegro

Pine Trio
Tomaso Albinoni (1671-1751) Double Oboe Concerto in D Major
III. Allegro

Víctor Carbajo (b. 1970) Restos de Alas (Remains of Wings)

Genesis Quartet
Josef Haydn (1732-1809) String Quartet No. 1 Op. 1 Hob. III:1
I. Presto
II. Minuet

The _________ Quartet
Antonín Dvořák (1841-1904) Quartet No. 10, Op. 51
II. Dumka

Maud Powell String Quartet
Dmitri Shostakovich (1906-1975) String Quartet No. 8 in C Minor
I. Largo
II. Allegro molto

Student Roster
12:45PM
Windet
Zoey Helle-Kuczynski, clarinet
Reagan Mikkelson, flute
Alex Gagne, horn
James Lusk, bassoon
Taylor Long, oboe
Garrett Matlock, coach
Keine Heißen
Julia Hansen, trumpet
Alton Beck, trombone
Dominic Del Mundo, horn
Liam McGovern, tuba
Charles Russel Roberts, trumpet/coach
Pink Flute Trio
AnnMarie Ellison, flute
Saniya Desai, flute
Neha Nadgauda, flute
Gordon Daole-Wellman, coach
the violIncello quartet
Jason Allen, violin
Zubin Saher, violin
Ameya Yammanuru, violin
Camryn Clark, cello
Leah Hagel-Kahmann, coach
Scarlet Quintet
Luca Edsall, violin
Zachary Green, violin
Kavya Gundlapalli, viola
Victor Adeoye,cello
Anna Gagne, bass
Tracy Dullea, coach
Antivla
Hanna Marszalek, violin
Kyle Hibben, violin
Gwendolyn Wilds, violin
Gretchen Grossert, cello
Richard Evans, coach
Hanson String Quartet
♪ EYSO Honors Chamber Ensemble
Jacy Jacobus, violin
Cate Winsor, violin
April Zhang, viola
Nora Brink, cello
Tim Archbold, coach


2:00PM
Oboe & Friends
Reiker Cho, flute
Brendan Coller, horn
Molly Creech, oboe
Ella Erickson, oboe
Garrett Matlock, bass clarinet/coach
12 Strings
Maxim Duncan, violin
William Colangelo, cello
Olivia Lang, cello
Richard Evans, coach
Berry Quartet
Ella Britton, violin
Bobby Meinig, violin
Hollister Schneider, viola
Timothy Archbold, coach
Paolo Quartet
Daisy Barragan, violin
Vivianne Gawlik, violin
Allison Goade, viola
Paolo Reyes, cello
Tracy Dullea, coach
The Three Thirds Quartet
Jean-Denis de Beauvoir, violin
Naomi Johnson, violin
Sophie Pehlke,cello
Leah Hagel-Kahmann, coach
The JAMS Quartet
Junna Dettling, violin
Makayla Preuss, violin
Alexa Stephens, viola
Sarah Krohn, cello
Leah Hagel-Kahmann, coach
The Blackhole String Quartet
Jediael Chintha, violin
Sinaya Ivy, violin
Damian Placencia, viola
Nolan Bluhm, cello
Richard Evans, coach
Sterling Brass Trio
♪ EYSO Honors Chamber Ensemble
Nayoon Lee, trumpet
Daniel White, trombone
Daniel Bulpitt, tuba
Matt Lee, coaches
4:30PM
Earl Clemens Wind Quintet
♪ EYSO Honors Chamber Ensemble
Gail Creighton, flute
Linnea Diersen, oboe
Lizzy Wallace, clarinet
Anna Creech, horn
Karsin Bader, bassoon
Kathy Pirtle, coach

The Party People
Ume Hashimoto - Jorgensen, violin
Vitaly Starkov, violin
Derek Hibben, viola
Megan Kamysz, cello
Mateo Estanislao, bass
Jinty McTavish, coach

Variations on a Quartet
Monish Murali, violin
Cara Thomas, violin
Nathan Throneburg, bass
Joanna Nerius, coach

Fuchsia Trio
Kim Adams, Violin
Marie Fundora, Violin
Lucia Wilfong, Viola
Cathy Kuna, coach

Pine Trio
Jake Rundle, oboe
Anna Shabowski, oboe
Jonathan Hirtzig, piano
Gordon Daole-Wellman, coach

Genesis Quintet
Angélica Borrego, violin
Emm Godinez, viola
Damian Sulikowski, vello
Jinty McTavish, coach

The _________ Quartet
Molly Gruman, violin
Aanya Navsariwala, violin
Aayush Desai, viola
Benjamin Gilbert, cello
Joanna Nerius, coach


Maud Powell String Quartet
♪ EYSO Honors Chamber Ensemble
Richard Lu, violin
Ethan Park, violin
Harry Graham, viola
Kennedy Buehler, cello
Timothy Archbold, coach
Special Thanks



Anthony Riani - videographer and Volunteer of the Year (Illinois Council of Orchestras)

Ed and Joyce Dlugopolski, Maud Powell String Quartet sponsors

Drs. Jeffrey and Leslie Hecht, Earl Clemens Wind Quintet sponsors

The family of Sterling (Stu) Ainsworth, Sterling Brass Quintet sponsors