EYSO's Bulletin Board
Open to the community to posts that include but are not limited to buying/selling instruments & gear, masterclass & competition opportunities, general upcoming performance events, summer festival advertisements, gigs/jobs/performance opportunities. Please fill out this
form
to have your content posted.
---
Summer Horn Program
The Horn Intensive by Jack McCammon
Jack McCammon, a current Masters of Music Horn student at the Juilliard School in NYC, has put together a great summer program designed to explore the French Horn repertoire as well as look at what life is like as a college student who is majoring in music. This program is designed for any high school or late middle school hornn student. For six weeks from July 5th to August 15th, students will have a weekly lesson and participate in studio class. Included below is link to the website where you can find more information. The spots are limited and will be filled on a first come, first serve basis. Looking forward to meeting you!
Deadline: JUNE 20th, 11:59 PM


Website Link.
Direct Sign-Up.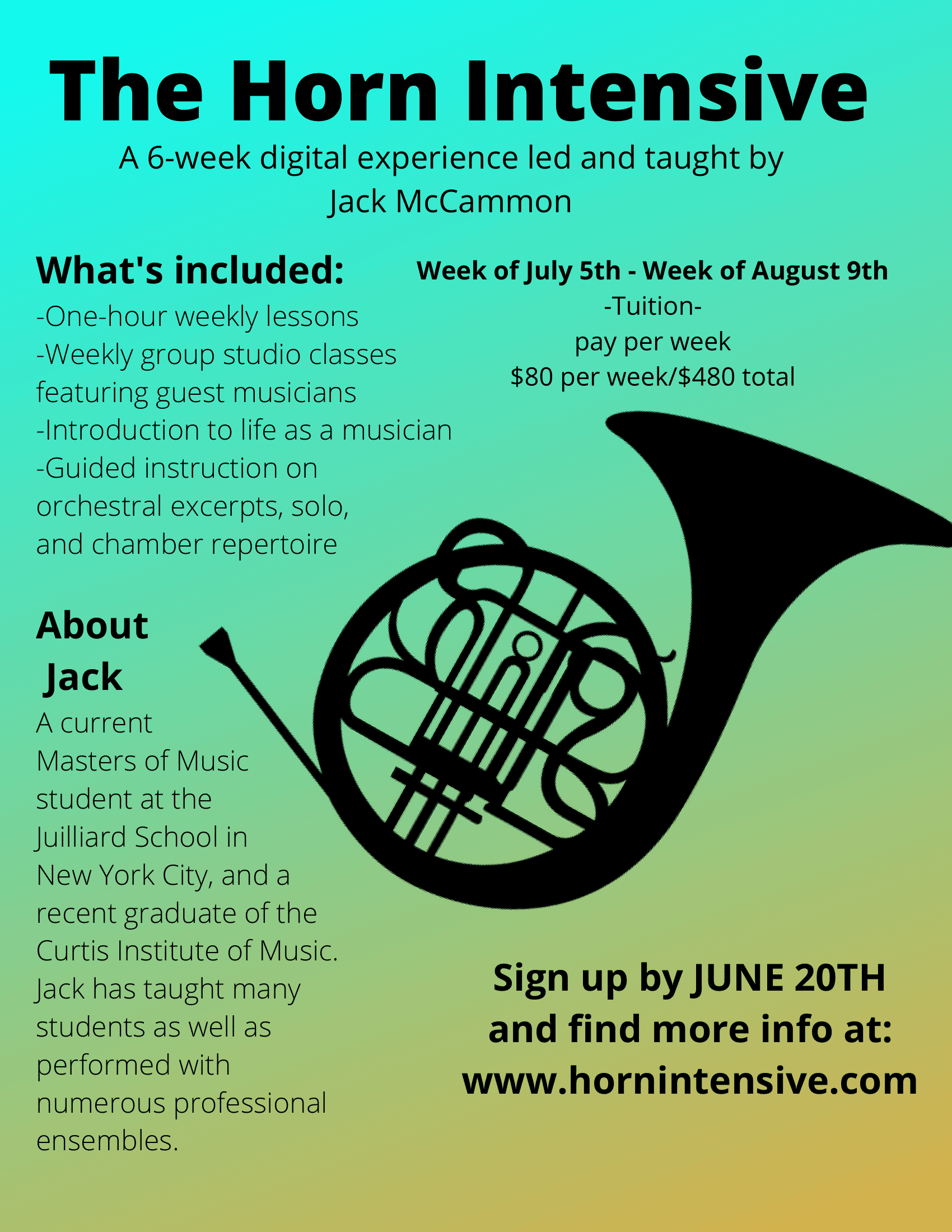 LGSO Young Artist Competition
Lake Geneva Symphony Orchestra
The Lake Geneva Symphony Orchestra invites young musicians to participate in its 2021 Young Artist Competition. The winner will be invited to perform with the LGSO in its 2021-22 season and awarded a $750 scholarship to be used toward educational expenses.
For more information and application click here.
Looking for Pit Orchestra Members
Marquee Youth Theater Program
The Marquee Youth Theater program is currently looking to assemble an orchestra pit for their June production of "Into the Woods." High school Juniors and Seniors are preferred but may be open to freshmen and sophomores.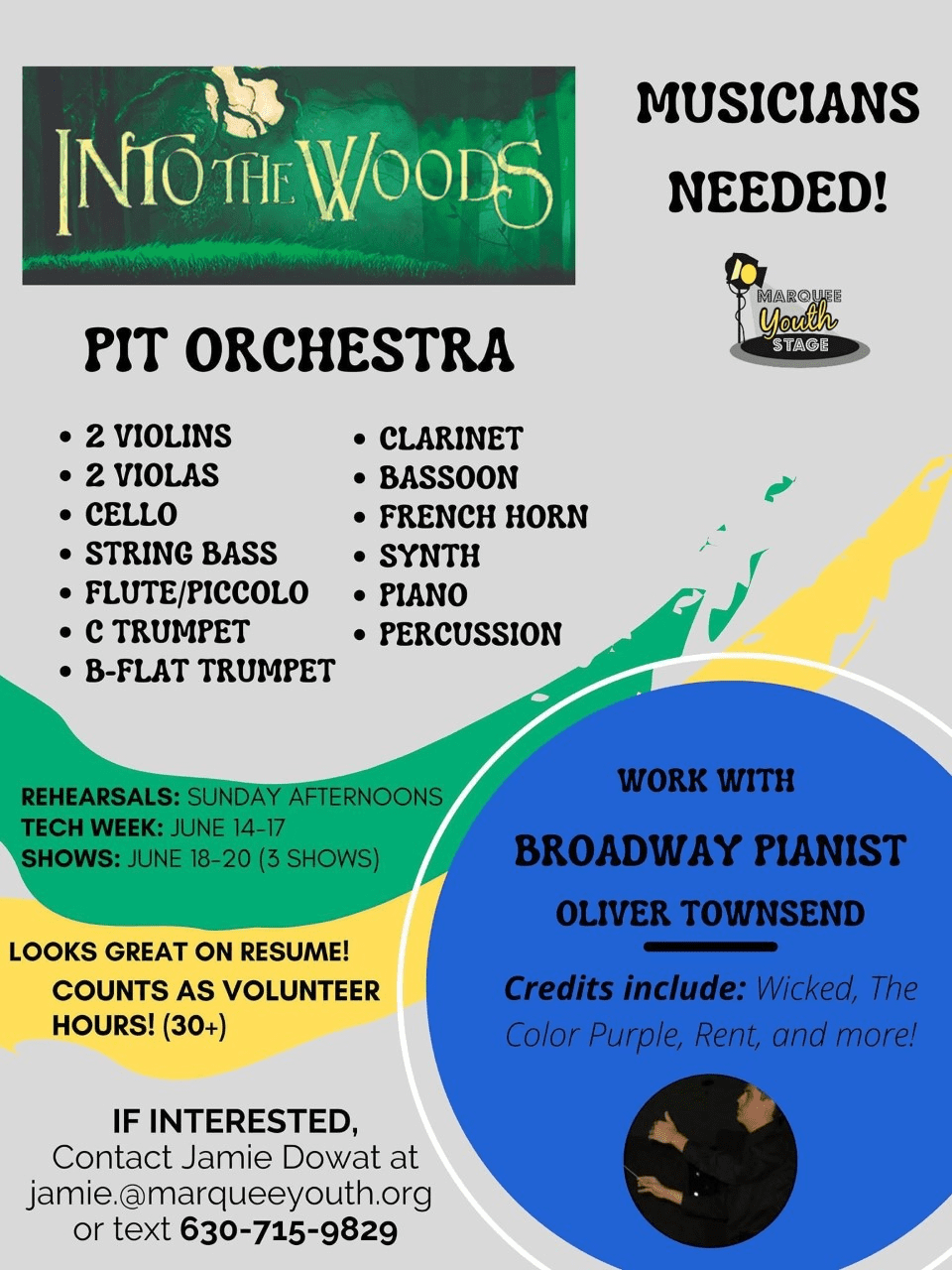 ---
Summer Orchestra Opportunity
WSCYVOGCA Youth Symphony
The cheekily titled WSCYVOGCA (West Suburban Community Youth Volunteer Orchestra of the Greater Chicagoland Area) was originally created by River Makinney and Marina Akamatsu to perform the Koussevitzky Double Bass Concerto with Makinney as the soloist in a safe, outdoor environment during the initial stages of the pandemic. What resulted was a fantastic youth symphony and a live-streamed concert. We don't want to stop there! The symphony is creating a second season, and we need wonderful musicians to perform Dvorak Symphony no. 9. We are in need of all instruments, but especially winds and brass. Please complete this interest form and we'll be in touch with you soon! Follow us online @wscyvogca on Instagram!
Interest form link here.
Past summer performance.
Summer Orchestra Opportunity
Illinois Chamber Music Festival
Please join us for a hybrid Illinois Chamber Music Festival experience this summer! The ILCMF for strings, piano, winds, and harp will be held at Illinois Wesleyan University in Bloomington, IL. We will offer an in-person student and virtual format this year in two parts.
July 11-16
Chamber music coachings for local/commuting students (1 hour per day) AND virtual master classes, technique classes, sessions on various music topics, and lessons (2 hours per day)
July 17-25
Full in-person chamber music program at IWU. The schedule includes daily chamber music coachings, rehearsals, masterclasses, elective studies, and performances by students and faculty. Room and board will be available for a limited number of residential participants.
For more information click here.