2019 Year-End Support Letter

Dear EYSO Fan,
This is the time of year we reflect on where we have been and where we are going. Last season took us on an adventure with The Little Prince, the time-honored classic novella written by French aristocrat, author, and aviator Antoine de Saint-Exupéry. With the Prince and our musical repertoire as guides, students explored big ideas: the importance of seeing beyond the surface; the meaning of multiple perspectives; and the value of developing "expert noticer" skills. Exploring life more deeply through music: it's what we do.
Thanks to caring individuals like you, EYSO provides a unique environment for learning. For 44 years EYSO's explorations have led to both musical excellence and new discoveries beyond the music. The 2019-20 season, MOVE, explores the rich traditions of Dalcroze, ballet, and folk dance and will feature Elgin's acclaimed Ballet Folklórico Huehuecoyotl (BHF) and Joffrey Ballet artist Luis Vazquez.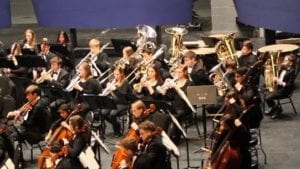 Each EYSO season is built around a specific cultural, historical, or social theme, and repertoire is selected for its aesthetic quality, artistic significance, and potential to teach aspects of history, literature, cultural theory, philosophy, worldview, and aesthetic trends. The rehearsal process, led by EYSO's conductor-educators, includes a fully integrated curriculum of weekly study guides for students, presentations of audio, visual, and written materials, lectures and performances by guest artists, and group discussions.
Why does EYSO take such great care in developing its programming season after season? The reason is simple—our youth are our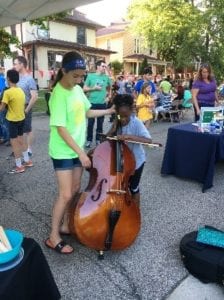 legacy. The future of our community rests in the hearts and minds of young people. Art helps build perspective and enables us to explore endless possibilities for discovery. Through EYSO programming students learn more about themselves and the world around them. Students develop artistically and technically while being prepared for a future of complex ideas, creative risk-taking, and leadership as global citizens.
We know you believe in the power of art to shape our youth. To help ensure the success and vibrancy of our communities, please consider making a donation to EYSO today. Tuition covers approximately 30% of our budget, and we rely on the generous support of donors like you to make up the difference in delivering the programming we value.
If you are already a supporter, THANK YOU! If you would like to learn more about us, we encourage you to attend a concert, tour a rehearsal, or simply schedule a time to chat. We'd love to hear from you!
Thank you for your support. We look forward to sharing another season of exploration and excellence through music!  
Gratefully,