EYSO's 47th Season: Design

Artists and influencers know the power of design: that small details have an outsized impact on how we move through the world. By building clear objectives and well-crafted blueprints, employing layers of meaning both conscious and subconscious, and utilizing a steady hand to guide the process, innovators can shape the world around them. In EYSO's 47th season, explore how sound comes together through design to make music—and how music can change the world. 
I. Blueprints (November 13, 2022) 
II. 99% Invisible (March 12, 2023) 
III. Fundamentals (April 1, 2023) 
IV. Impact (May 14, 2023) 
Download a PDF of EYSO's 2022-23 Season Calendar:
Download a PDF of EYSO's 2021-22 Season Handbook, which includes important information regarding EYSO policies and procedures. By participating in EYSO activities, you agree to abide by the most recent version of this Handbook:
The Calendar and Handbook are subject to change, so check back regularly for updated versions and watch your weekly eNews for the most current information.

October 2020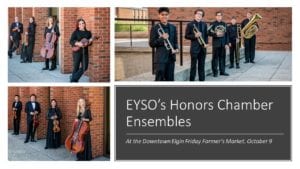 Friday, October 9, 2020 Be dazzled and delighted in the beautiful fall weather at the Downtown Neighborhood of Elgin's Friday Farmer's Market! Three of our Honors Chamber Ensembles will be performing in the courtyard near Al's Cafe. Following our percussion performers at 5pm (see calendar for more info on the percussion performance): 5:00 Maud Powell String Quartet 5:20 Hanson String Quartet 5:45-6:05 Sterling Brass Quintet Learn more about these hardworking…
Find out more »
+ Export Events