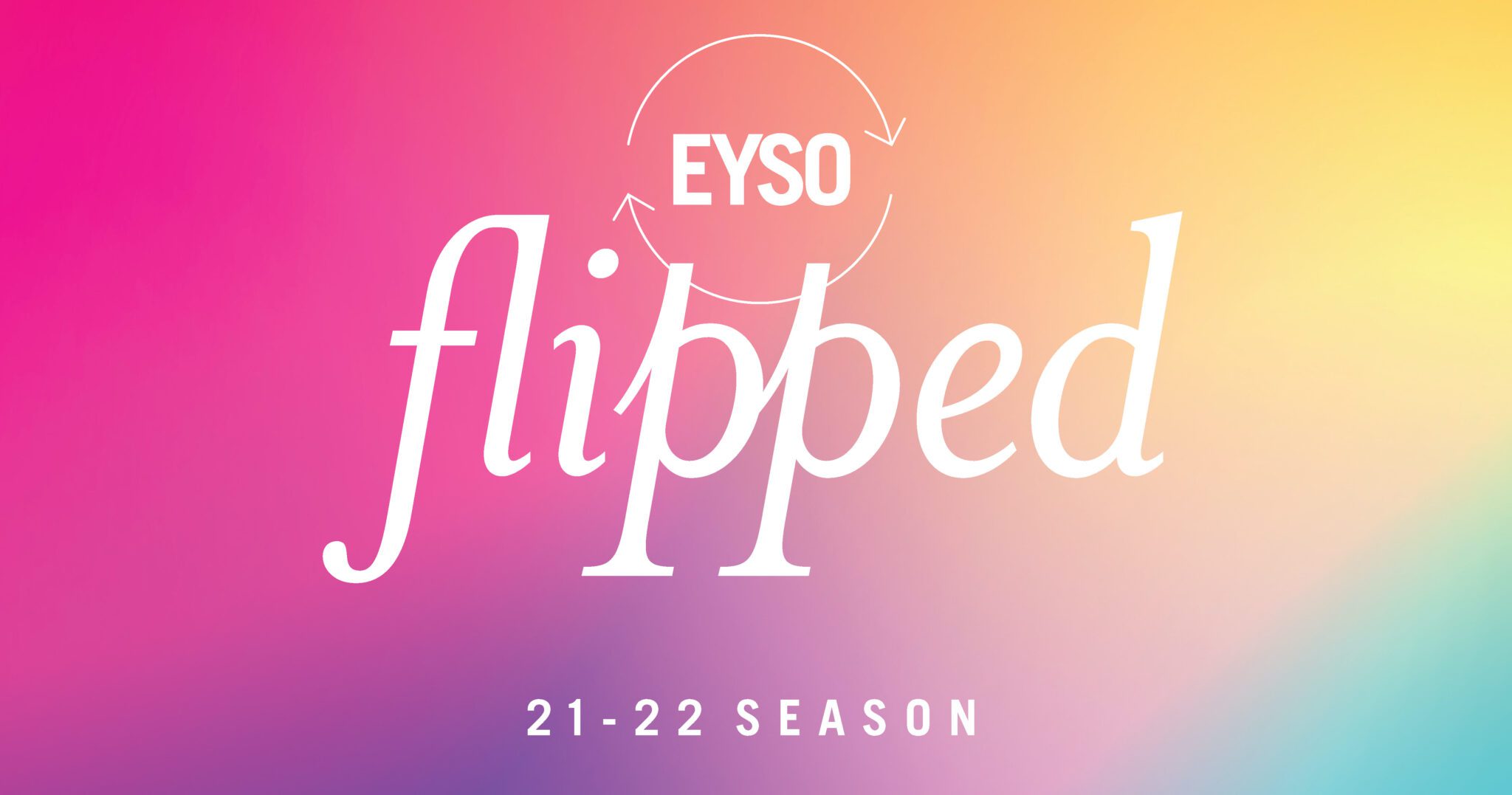 Welcome to
EYSO's November CMI Concert Livestream!
On Sunday, November 7th at 12:45, 2:00, and 4:30PM,
three concerts featured performances by our Chamber Music Institute Ensembles. Complete and high-quality videos of all three performances will be added shortly.
*Please note that this page has been optimized for Google Chrome. Certain special characters may not show up properly in other browsers.
Message from the Chamber Music Institute Director

Each year's Fall CMI recitals represent a moment of promise. While the groups are presenting the culmination of two months of hard work, this is both an arrival and a midpoint: groups continue in second semester to enhance their own ensemble skills and with increased familiarity, learn to read and predict their colleagues' playing styles. It's truly special to see an ensemble grow together, and this concert gives us a chance to mark that growth along the path to the final concerts.

We are thrilled to finally welcome a live audience back into the Spartan Auditorium to join us, as well as friends from afar via livestream. Let's celebrate the dedication and enthusiasm the students have shown this semester and take this joy and momentum into the preparation for next semester.

Thank you to CMI families and coaches for their support, and to our students for their engagement and hard work – and, of course, for sharing their beautiful music with us. It's time to take the stage!

Roslyn Green
Chamber Music Institute Director

12:45PM Concert
Hanson String Quartet
Alexander Borodin (1833-1887) String Quartet No. 2
I. Allegro moderato

Red Quartet
Henry Purcell (1659-1695) Pavane in G Minor

Windet
Gabriel Pierne (1863-1937) Pastorale, Op. 14 No. 1

Ludwig van Beethoven (1770-1827) Quintet (arranged from Sextet, Op. 71)
III. Menuet, quasi allegretto

Scarlet Quintet
Carold Nunez (1929-2015) M to the Third Power

Antivla
Henry Purcell (1659-1695) The Fairy Queen
Chaconne

Andrea Gabrieli (1533-1585) Ricercar del 12 tono

Pink Flute Trio
Joseph Bodin de Boismortier (1689-1755) Trio Sonata No. 5
I. Allemande
III. Lentement

Keine Heißen
Ludwig Maurer (1789-1878) Three Pieces for Brass Quintet
edited by Robert Nagel
2:00PM Concert
Sixteen Strings Quartet
Johann Sebastian Bach (1685-1750) Chorale No. 15
Chorale No. 19
Chorale No. 24

Ken Benshoof (b. 1960) Sweeter than Wine
II. Postscript

Berry Quartet
Michael McLean (b.1952) Tango

Joseph Haydn (1732-1809) String Quartet Op. 2 No. 5
I. Presto

Orange Quartet
Giuseppe Antonio Brescianello (1690-1758) Concerti à 3, No. 2 in G Major
IV. Allegro

The Three Thirds Trio
Wolfgang Amadeus Mozart (1756-1791) Trio in C Major, K439b
I. Allegro
III. Minuet and Trio
IV. Rondo

Oboe & Friends
Darius Milhaud (1892-1974) The Chimney of King René, Op. 204
IV. Sarabande

Paquito D'Rivera (b.1948) Aires Tropicales
IV. Vals Venezolano

The JAMS Quartet
Johann Sebastian Bach (1685-1750) Brandenburg Concerto No. 5
arr. Merle J. Isaac
The Blackhole String Quartet
Giles Farnaby (1563-1640) His Humour

Hawa Kassé Mady Diabaté (b.1974) Tegere Tulon
I. Funtukuru

Sterling Brass Trio
Jordan Grigg (b. 1972) Suite for Trumpet, Trombone, and Tuba
Movement II - Bourreé
Movement IV - Fugue

Rodger Robb Four Contrary Movements for Brass Trio
Movement I - Fanfare
Movement II - Dance
Movement III - Elegy
Movement IV - Dance

4:30PM Concert
Earl Clemens Wind Quintet
Eric Ewazen (b. 1954) Roaring Fork for Wind Quintet
I. Whitewater Rapids (Maroon Creek)
II. Columbines (Snowmass Lake)

Variations on a Quartet
Alexander Borodin (1833-1887) String Trio in G Minor

The Party People
George Onslow (1784-1853) Quintet No. 13
I. Allegro spirituoso assai

Genesis Quintet
Jill Elliott Spanish Quintet
I. Procession
III. Minuet and Trio
IV. Rondo

Pine Trio
Jenni Brandon (b.1977) Metamorphosis for Two Oboes & Piano

The _________ Quartet
Dmitri Shostakovich (1906-1975) String Quartet No. 7 in F-sharp Minor, Op. 108
I. Allegretto
II. Lento

Maud Powell String Quartet
Ludwig van Beethoven (1770-1827) String Quartet No. 14, Op. 131
VII. Allegro

Student Roster
12:45PM
Hanson String Quartet
♪ EYSO Honors Chamber Ensemble
Jacy Jacobus, violin
Cate Winsor, violin
April Zhang, viola
Nora Brink, cello
Tim Archbold, coach

Red Quartet
Zubin Saher, violin
Jason Allen, violin
Ameya Yammanuru, viola
Camryn Clark, cello
Leah Hagel-Kahmann, coach

Windet
Zoey Helle-Kuczynski, clarinet
Reagan Mikkelson, flute
Alex Gagne, horn
James Lusk, bassoon
Taylor Long, oboe
Garrett Matlock, coach

Scarlet Quintet
Luca Edsall, violin
Zachary Green, violin
Kavya Gundlapalli, viola
Victor Adeoye,cello
Anna Gagne, bass
Tracy Dullea, coach

Antivla
Hanna Marszalek, violin
Kyle Hibben, violin
Gwendolyn Wilds, violin
Gretchen Grossert, cello
Richard Evans, coach

Pink Flute Trio
AnnMarie Ellison, flute
Saniya Desai, flute
Neha Nadgauda, flute
Gordon Daole-Wellman, coach

Keine Heißen
Julia Hansen, trumpet
Alton Beck, trombone
Dominic Del Mundo, horn
Liam McGovern, tuba
Charles Russel Roberts, trumpet/coach
2:00PM
Sixteen Strings Quartet
Ava Blalark, violin
Maxim Duncan, violin
William Colangelo, cello
Olivia Lang, cello
Richard Evans, coach
Berry Quartet
Ella Britton, violin
Bobby Meinig, violin
Hollister Schneider, viola
Maggy Card, bass
Timothy Archbold, coach
Orange Quartet
Daisy Barragan, violin
Vivianne Gawlik, violin
Allison Goade, viola
Paolo Reyes, cello
Tracy Dullea, coach
The Three Thirds Trio
Jean-Denis de Beauvoir, violin
Naomi Johnson, violin
Sophie Pehlke,cello
Leah Hagel-Kahmann, coach
Oboe & Friends
Reiker Cho, flute
Brendan Coller, horn
Molly Creech, oboe
Ella Erickson, oboe
Garrett Matlock, bass blarinet/coach
The JAMS Quartet
Junna Dettling, violin
Makayla Preuss, violin
Alexa Stephens, viola
Sarah Krohn, cello
Leah Hagel-Kahmann, coach
The Blackhole String Quartet
Jediael Chintha, violin
Sinaya Ivy, violin
Damian Placencia, viola
Nolan Bluhm, cello
Richard Evans, coach
Sterling Brass Trio
♪ EYSO Honors Chamber Ensemble
Nayoon Lee, trumpet
Daniel White, trombone
Daniel Bulpitt, tuba
Matt Lee & Kari Lee, coaches
4:30PM
Earl Clemens Wind Quintet
♪ EYSO Honors Chamber Ensemble
Gail Creighton, flute
Linnea Diersen, oboe
Lizzy Wallace, clarinet
Anna Creech, horn
Karsin Bader, bassoon
Kathy Pirtle, coach

Variations on a Quartet
Ariana Mattos Cruz, violin
Cara Thomas, violin
Nathan Throneburg, bass
Joanna Nerius, coach

The Party People
Ume Hashimoto - Jorgensen, violin
Vitaly Starkov, violin
Derek Hibben, viola
Megan Kamysz, cello
Mateo Estanislao, bass
Jinty McTavish, coach

Genesis Quintet
Angélica Borrego, violin
Marie Fundora, violin
Emm Godinez, viola
Lucia Wilfong, viola
Damian Sulikowski, vello
Jinty McTavish, coach

Pine Trio
Jonathan Hirtzig, piano
Jake Rundle, oboe
Anna Shabowski, oboe
Gordon Daole-Wellman, coach

The _________ Quartet
Molly Gruman, violin
Aanya Navsariwala, violin
Aayush Desai, viola
Benjamin Gilbert, cello
Joanna Nerius, coach


Maud Powell String Quartet
♪ EYSO Honors Chamber Ensemble
Ethan Park, violin
Michelle Wang, violin
Harry Graham, viola
Kennedy Buehler, cello
Timothy Archbold, coach
Special Thanks



Anthony Riani - videographer and Volunteer of the Year (Illinois Council of Orchestras)

Ed and Joyce Dlugopolski, Maud Powell String Quartet sponsors

Drs. Jeffrey and Leslie Hecht, Earl Clemens Wind Quintet sponsors

The family of Sterling (Stu) Ainsworth, Sterling Brass Quintet sponsors