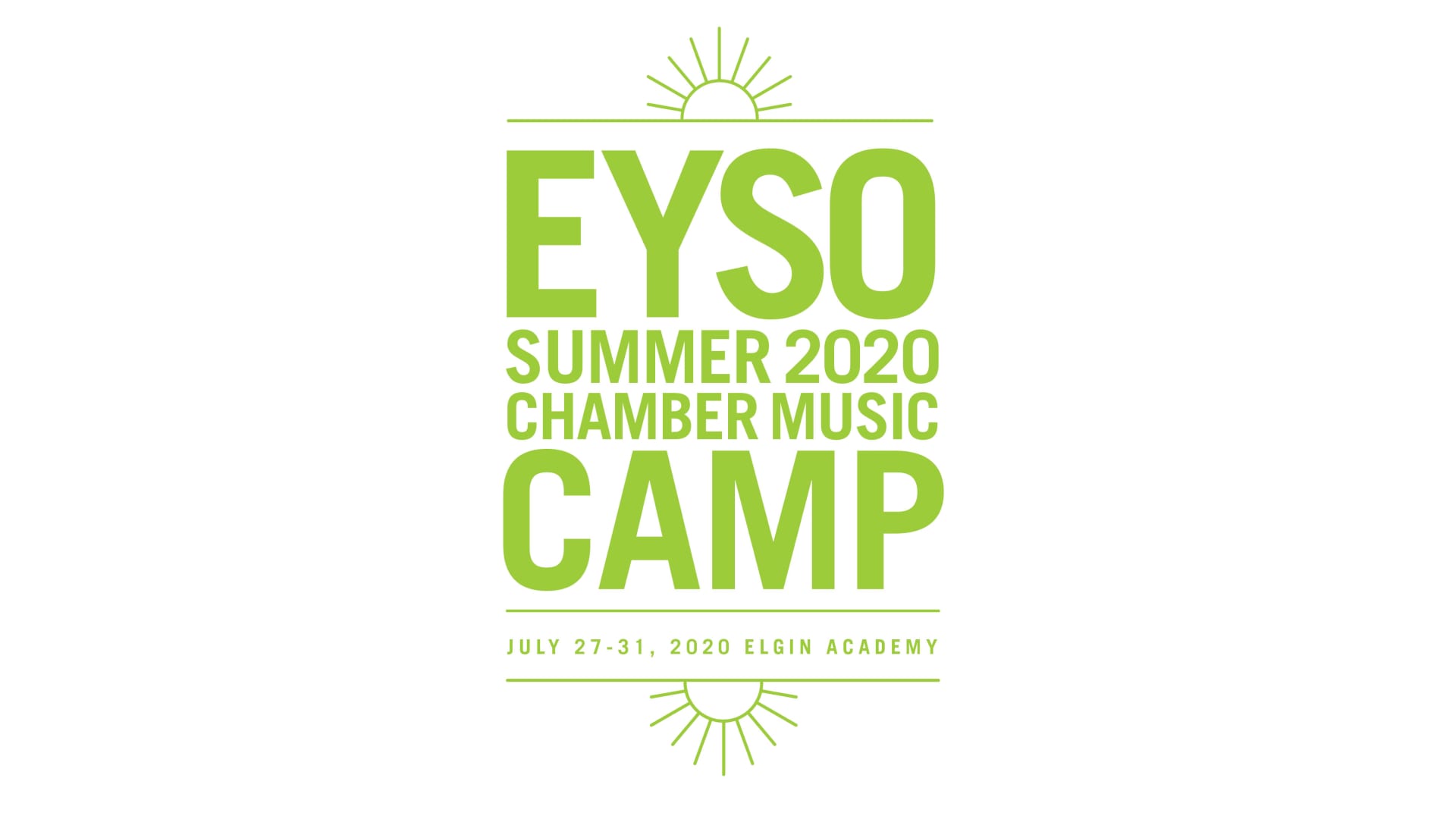 Welcome to 
EYSO's Summer Chamber Music Camp Concert: 2020 edition!
It's EYSO's Summer Chamber Music Camp: 2020 edition. It's been an atypical year, but the week of July 27-31 has meant our first chance to meet in person and make music together since March.
We want to share the joy and the music this week has created, so join us for livestreamed performances by SCMC ensembles – see the students performing together in real-time right from your computer or mobile device!
Performances will start on Friday, July 31 at 6:00pm. See below for a complete schedule and concert details.
*Please note that this page has been optimized for Google Chrome. Certain special characters may not show up properly in other browsers.
Unit Green at 6:00PM
Forest Tree-o
Soldier's March
Robert Schumann (1810-1856)
arr. Stoutamire/Henderson

Andante
Wolfgang Amadeus Mozart (1756-1791)
arr. Stoutamire/Henderson

Zugrasse Quartet
Ermuntre dich, mein schwaher Geist
Johann Sebastian Bach (1685-1750)

Minuet from String Quartet in C Major Opus 3 No 2
Josef Haydn (1732-1809)
Unit Blue at 6:30PM
Sanguine Iris Trio
Ahi, Che Quest'occhi Miei
Giovanni Pierluigi da Palestrina (1525-1594)
arr. Greenblatt

Theme from Symphony No. 1
Johannes Brahms (1833-1897)
arr. Stoutamire/Henderson

Wobbly Chi Gong Zebra Quartet
Andante Moderato from String Quartet No. 1 in G Major
Florence Price (1887-1953)

Allegro from Brandenburg Concerto No. 3
Johann Sebastian Bach (1685-1750)
Unit Orange at 7:00PM
Haydn Seek Trio
Divertimento in C Major

II. Adagio
III. Menuet
IV. Finale: Presto
Michael Haydn (1737-1806)
Amber Quintet
Allegretto from String Quintet in C Major, D. 956
Franz Schubert (1797-1828)
Unit Red at 7:30PM
Ruby Quartet
String Quartet No. 1 in C Major

I. Allegro Assai
II. Rondeau: Tempo di Menuetto Gratioso
Joseph Bologne, Chevalier de Saint-Georges (1745-1799)
Golden Delicious Quartet
String Quartet in One Movement
Amy Beach (1867-1944)
Message from the Chamber Music Institute Director

The campus at Elgin Academy has been a garden of musical delights this week. Canopies scatter the lawn sheltering excited young musicians as their sweet musical creations drift in the air across pathways and into open windows.

Chamber music is an art form predicated on an intimacy between musicians, and with 6 foot distances and masked faces there was a chance that students at 2020's Summer Chamber Music Camp would struggle to create that special connection. But I have to applaud the drive and enthusiasm of the students and staff this week, because by the end of the first day, the joyful sounds of music and laughter were already blending.

While I'm sure none of us love the reminders to spread out, mask up, sanitize hands (the list goes on and on) - there have been no complaints, only understanding and best efforts. And the music has triumphed over it all!

Please cheer these fantastic students on from home during these live digital performances, streamed straight from Sears Gallery as the final celebration of this week of growth, challenge, and collaboration.

Staff Members
Chamber Music Institute Director
Roslyn Green

Operations Manager
Madilyn Greiner

Composer-in-Residence
Ethan Parcell



KAIA String Quartet, Coaching Faculty
Victoria Moreira
Naomi Culp
Amanda Grimm
Hope DeCelle

Exploratory Faculty
Zachary Bowers
Jill Burlingame
Anthony Krempa
Matthew Sheppard



Teaching Assistants
Ernesto Bañuelos
Stella Childs
Claire Collins
Jay Reiter
Forest Tree-o
Aubrey McMillen
Alexa Chapski
Julian Grisius


Zugrasse Quartet
Rafi Dennison
Zubin Saher
Sean Kinikin
Griffin Egan



Coach: Naomi Culp
TA: Claire Collins
Wobbly Chi Gong Zebra Quartet
Erica Chu
Jack Allen
Hollister Schneider
Katie Roberts


Sanguine Iris Trio
Jason Allen
Damian Placencia
Isabella Schreiter



Coach: Amanda Grimm
TA: Jay Reiter
Amber Quintet
Val Terdina
Ava Blalark
Angélica Borrego
Ioanna Rendas
Alan Taylor


Haydn Seek Trio
Vitaly Starkov
Victor Adeoye
Mateo Estanislao



Coach: Hope DeCelle
TA: Stella Childs
Golden Delicious Quartet
Cate Winsor
Lindsey Baron
Harry Graham
Kennedy Buehler


Ruby Quartet
Perry Li
Zachary Stordahl
Tommy Johnson
Nora Brink


Coach: Victoria Moreira
TA: Ernesto Bañuelos